Etruscan civilizzation developed between the 8th century and the 1st century BC over an area covering Tuscany, Umbria and upper Lazio.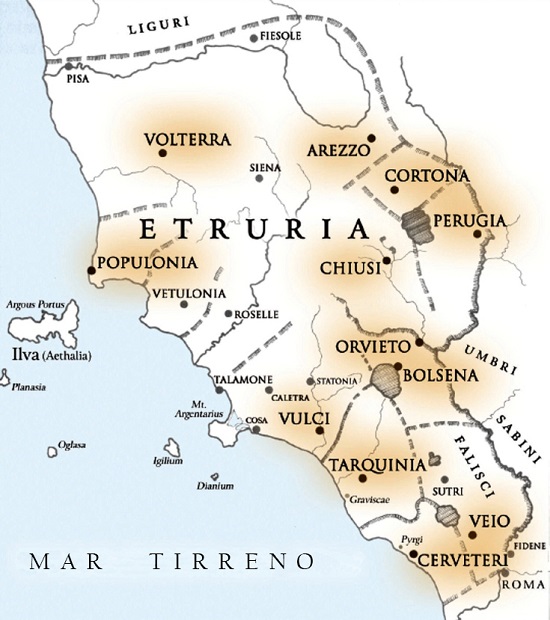 Important traces of the presence of this people have also been found in Emilia Romagna (Marzabotto) and the Po Valley (Bologna, Spina).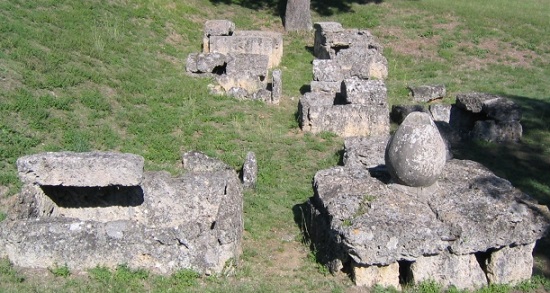 Stretches of their megalithic walls often remain (Volterra-Perugia in the Umbria region).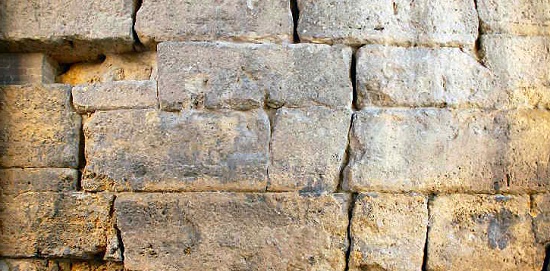 The necropolises which have been found are evidence of the great importance which Etruscan attributed to the cult of the dead.


Chiusi

(Siena-Tuscany) is famous for the multicolored urns,

Tarquinia

(Lazio) for painted tombs,

Cerveteri

(Roma province) for monumental tumuli,

Palestrina

(22 km from Rome) for oriental-style tombs.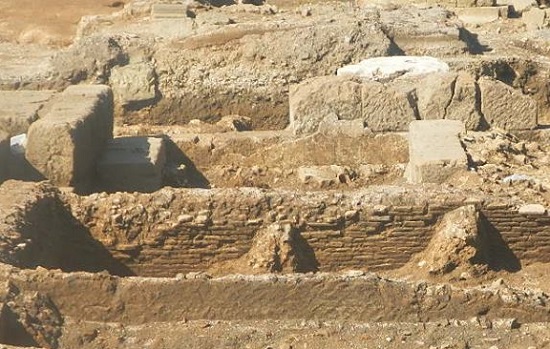 Discoveries in many tombs include delicate pieces of jewellery, important sculptures in terra cotta and bronze, sarcophaguses and superb wall paintings.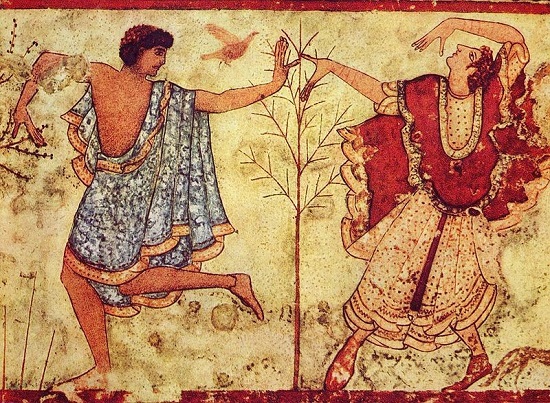 Etruscan art was the product of individual city-states. The most important museums of Etruscan art in Italy are in

Volterra

,

Rome

and

Tarquinia

.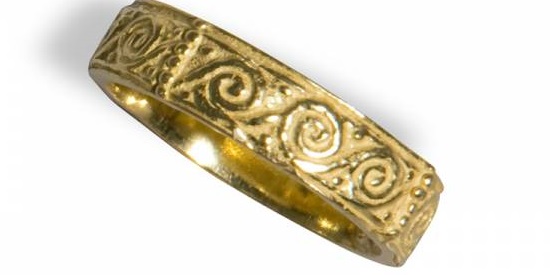 Magna Graecia - Megál? Hellás (Great Greece).
The coastal areas of southern Italy were colonizes by people from Greece .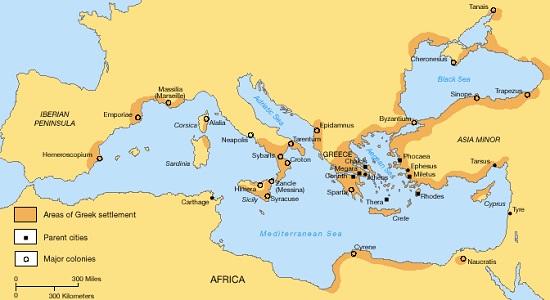 Today there is still a rich evidence of that civilization, which flourished between the 8th and 5th century BC.
Art in Magna Grecia developed along the same lines as in the motherland, although it sometimes had original features.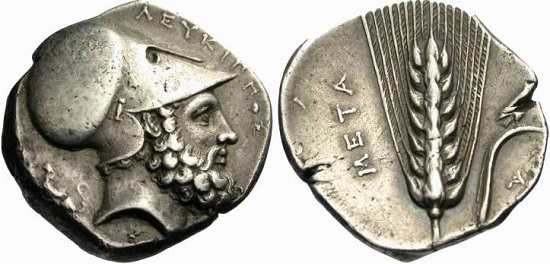 The archaeological sites which remain are among the most important and the most evocative in Europe .
Outstanding examples are the great complexes at Agrigento, Syracuse, Selinunte (Sicily), and Paestum (Campania), including vast necropolises, theatres and temples, often splendidly preserved.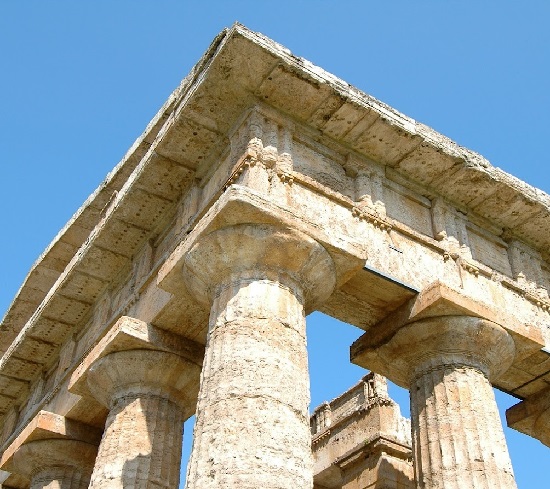 There are important remains of sculptures and painted ceramics.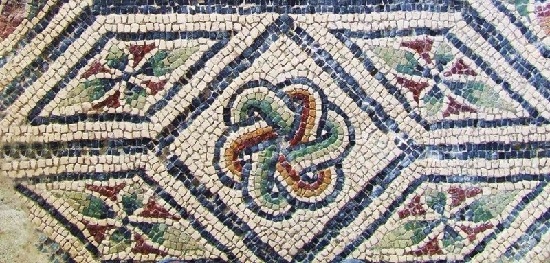 Some of the most important collections of discoveries from Magna Grecia are held in the museums of Agrigento (Sicily) and Reggio di Calabria (Calabria).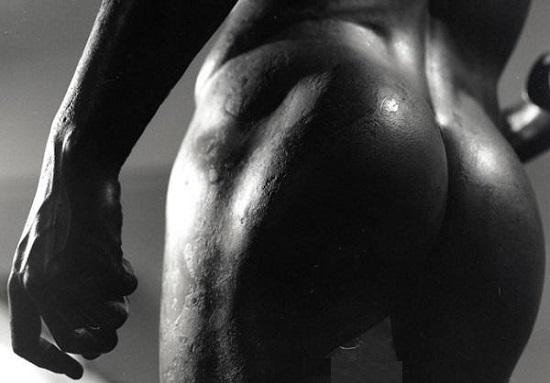 ~ The Roman Civilization ~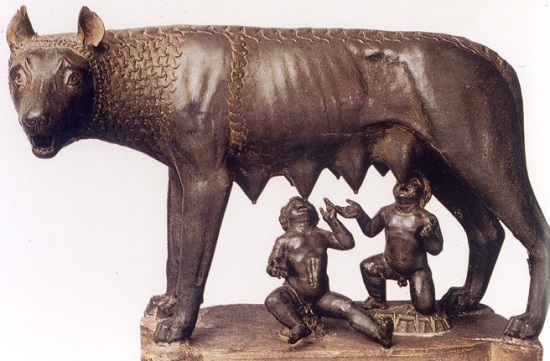 Romolo and Remo - The founders of Rome.
The peninsula is studded with roads, bridges, aqueducts, arches and the remains of baths, forums, amphitheatre and temples.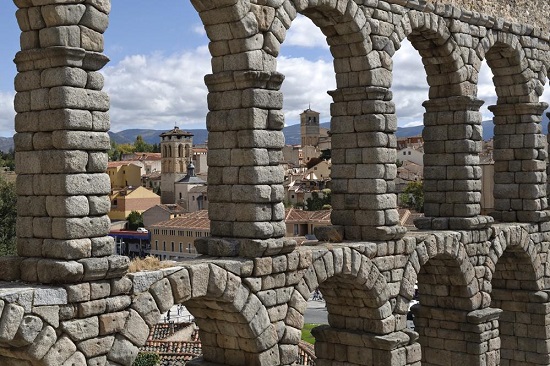 The urban ground plan of the majority of Italian cities retains the outline of the Roman structure (Bologna, Verona, Florence) and the perpendicular streets of the original military encampments (Turin, Aosta).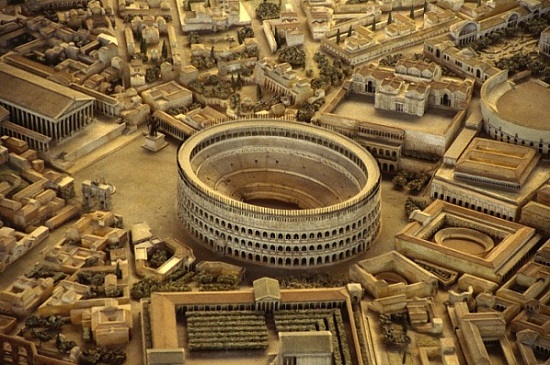 Roman art , blending and developing Italic, Etruscan and Greek traditions, has left its mark on the whole country.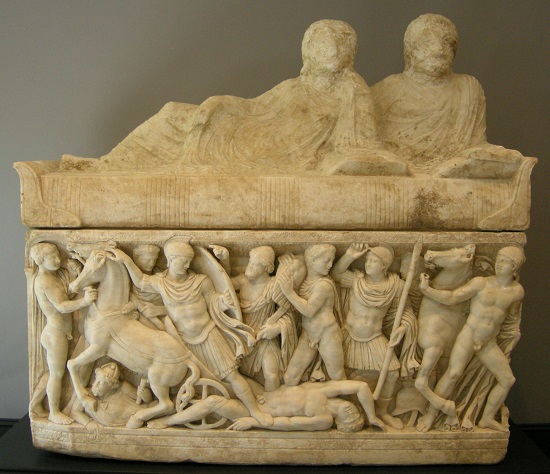 In addition to the great remains in the city of Rome itself and its port (Ostia Antica) and the traces which are present almost everywhere (especially in the centre and the south of the country but also in the extreme north) ,...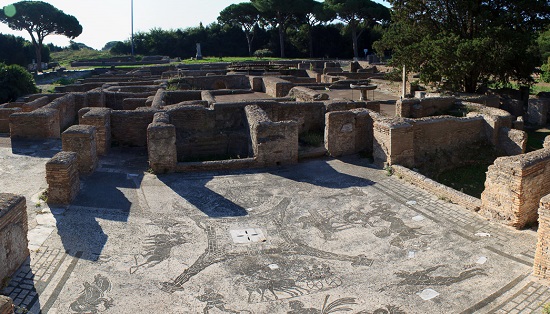 ...the remains of entire cities such as Pompeii and Herculaneum have survived.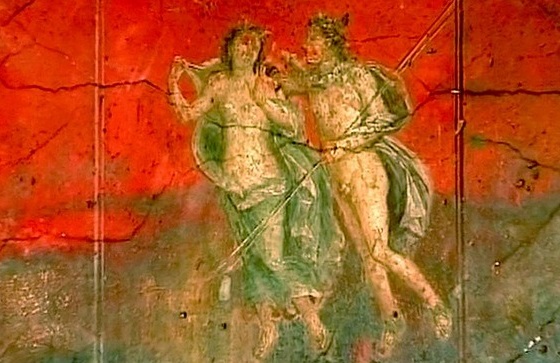 Here, thanks to their incredible state of preservation , it is possible "to reach out and touch" the daily life of that time: streets, shops, villas and inscriptions are all present as though crystallized under the ashes from the eruption of Vesuvius in 79 AD.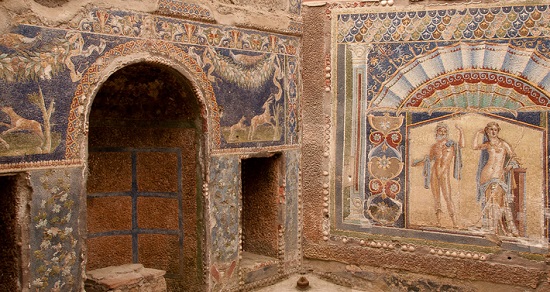 Prehistoric art is fairly widespread although it varies considerably in importance, type and age.
Among the most ancient objects is the so called Venus of Savignano, dating back to the late Paeolithic period, which was found near Modena (Emilia Romagna) and is now held in Rome at the Museo Pigorini.

It is it's one of the largest known Venuses among the about 190 dated to the Upper Paleolithic in Europe and Siberia.
With a proposed dating of 25,000–20,000 years ago, it is considered one of the earliest expressions of art in Italy.
The figurine is roughly biconical.
Typical of other Venus figures, the feminine features are overemphasized: the thighs and hips are large while the belly, breasts and buttocks are protruding.
The head is a cone, the arms are barely sketched, and there are no hands, feet, or shoulders at all.

The Lunigiansi Statues
(Brescia - Lombardy )

The Stele Statues, found in Lunigiana, represent the most ancient and mysterious wealth of this land.
The Museum of the Stele Statues of Lunigiana, situated in the prestigious Piagnaro Castle, offers to visitors the possibility to embark on a compelling and enlightening journey of discovery of these testimonies of ancient times carved and engraved in stone...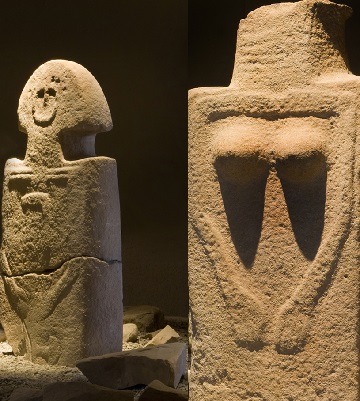 Gli amanti di Valdaro
The lovers of Valdaro

Discovered by archaeologists at a Neolithic tomb in S.Giorgio near Mantova, in the region of Lombardy. Scientists believe that the pair is a man and woman no older than 20 years old and approximately 5'2" (157 cm) in height.
They appear to have died or were interred facing each other with arms around each other, thus reminiscent of a "lovers' embrace".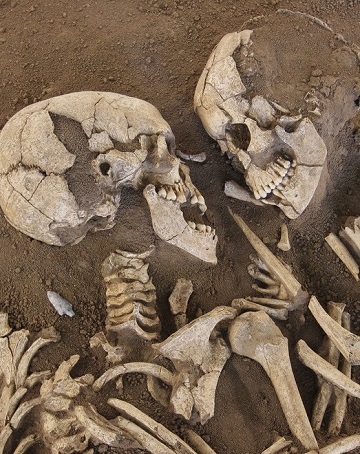 The male skeleton (on the left side of the embrace) was found with a flint arrowhead near his neck.
His lady friend had a long flint blade along her thigh, plus two flint knives under her pelvis.
There was initial speculation that the weapons might have been the cause of death. Osteological examination however found no evidence of violent death, no fractures, and no microtrauma, so the most likely explanation is the flint tools were buried along with the people as grave goods.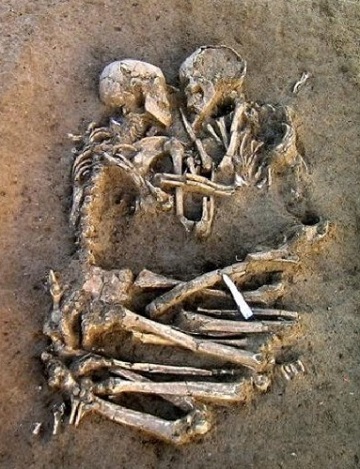 Legend tells of abandoned twins Romulus and Remus , saved by a wolf, found and raised by a shepherd.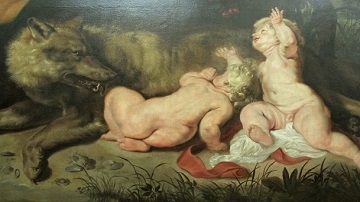 One day they decided to establish a new city, but they could not agree on the location.
Romulus wanted to build it on the Palatine Hill, but Remus preferred the plain.
So they entrusted to the response of the gods who established that the choice would be made by the one who would see, in a certain time and in a defined space of the sky, the highest number of birds.

Romulus won, and began to plot with the plow the furrow that would have delimited the sacred city.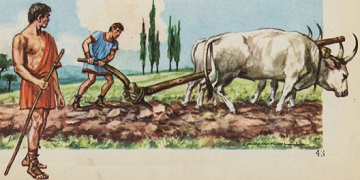 Remo, not happy about the turn of events, started teasing him to the point that Romulus became angry and killed him.
Romulus became the first king of Rome.
It was the year 753 B. C.

Another legend suggest that they were the descendants of prince Enea who escaped the city of Troy destroyed by the Greeks...learn more



Sites worth considering if you are in the vicinity.
Arco di Augusto - Porta Pretoria - Teatro e Foro Romani.
Museo Archeologico Nazionale

Porta Palatina - Museo dell'Antichita' - Museo Leone (glass collection).
Grotta dei Balzi Rossi, prehistoric site, remains of the Anfiteatro and Foro romano - Museo Nazionale Lunense.
Lombardia (Lombardy) Region
Milano and Capo di Ponte

:
Basilica & Colonne di San Lorenzo - Museo Archeologico .
Parco Nazionale Incisione Rupestri Museo (collection of prehistoric rock graffiti from Val Camonica).

Arena -Teatro - Porta dei Borsari - Arco dei Gavi - Museo archeologico romano - Museo lapidario Maffeiano (Greek, Etruscan and Roman stone memorial)
Volterra

:

Arco etrusco - Teatro romano - Museo Guarnacci ( Etruscan objects).
Lazio Region
Tarquinia ( Viterbo)
Important etruscan settlement; the necropolis and the Museo Nazionale Tarquinense
Remains of etruscan necropolises and Museo archeologico.
Much of the ancient settlement can be visited. Teatro augusteo, the Terme and the Foro

.
Etruscan centre, Necropoli, Museo Nazionale Cerite (furnishing, vases, amphoras, tools and remains from temple).
Rome
Some of the many sites to visit are:
Fori Imperiali, Foro Romano,
Foro Palatino, Colonna Traiana,
Colonna di Marco Aurelio,
Basilica di Massenzio, Arco di Tito,
Marcati Trainei, Teatro di Marcello,
Colosseo and Arco di Costantino,
Terme di Caracalla,
Area Pacis Augustae, Pantheon,
Castel Sant'Angelo,
Via Appia Antica, Casa di Livia,
Tomba di Cecelia Metella,
Museo Nazionale di Villa Giulia,
Museo Capitolino,
Museo Nazionale Romano,
Museo Preistorico and
Etnografico Pigorini,
Museo Pio-Clementino (sculptures),
Museo Civilta' Romana.
Campania Region
Pompei
Foro, Basilica, Teatro
?Grande and Teatro Piccolo,
Casa del Menandro, Casa dei Vettii,
Casa del Fauno, il Bordello, Villa dei Misteri, Terme Stabiane, Antiquarium
Ercolano
Casa dell'Atrio a mosaico, Casa Sannitica, Casa di Nettuno and Anfitrite,
Casa del Bicentenario, Casa dei Cervi, Casa del rilievo del Telefo,
Terme, Palestra.
Paestum
Basilica, Foro, Tempio di Cenere,
Tempio di Nettuno,Teatro Greco,
Anfiteatro Romano,
Sacello sotterraneo, Museo.



Puglia Region
Bari and Lecce provinces
Many megalithic remains are to be found in Bari and the Salentine province.

Dolmen di Chianca, Bisceglie,
Pulo di Molfetta, Dolmen di Melendugno,
Menhir di Giurdignano,
Grotta Romanelli a Santa Cesarea,
Museo provinciale di Lecce and
Museo Archeologico di Bari.

Surely, the most important attraction of the city of Taranto is the newly restored "Archaeological Museum", a real hidden treasure cove.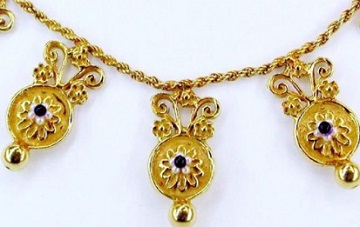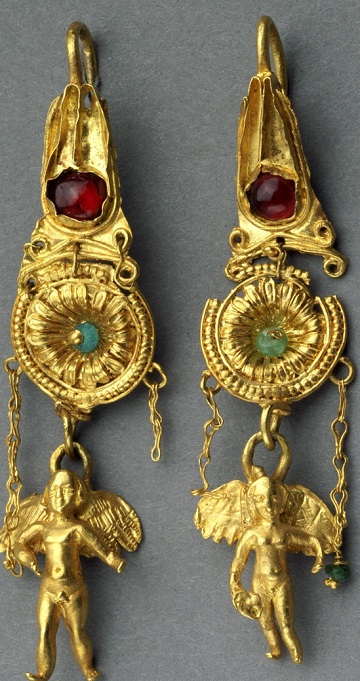 Calabria Region
Reggio di Calabria Museum
Locri Epizephiri National


Archaeological Museum
Two of Southren Italy's most important Archaelogical Sites featuring invaluable finds of the Magna Graecia period.
The splendid Valley of the Temples is one of the best preserved Greek sites.
Tempio di Giove Olimpico,
Tempio di Giunone Lacinia,
Tempio della Concordia, Tempio di Ercole,
Fortificazione greche,
Quartiere Ellenestico-Romano,
Museo archeologico Romano



Selinunte (Trapani )


Ruins of the ancient Greek settlement,
Acropoli, Templi,
Santuario della Malophoros



Siracusa (Syracuse)


Tempio di Apollo, Fontana Aretusa,
Teatro Greco, Anfiteatro Romano,
Latomia del Paradiso,
Castello Euralio, Museo Archeologico.



Taormina:

(Messina) - Teatro Greco

Sardegna (Sardinia) Region
About 7,000 nuraghi are spread over Sardinia.
Nuoro


Tempio nuragico di Santa Vittoria di Serri,
Villaggio nuragico di Serra Orrios.



Oristano


Nuraghe Losa di Abbasanta,
Antiquarium Arborense ,
Tempio Demetra and Kore,
Santuario Punico,
Terme Romane,
remains of urban complex.



Sassari


St Andrea Priu di Bonorva,
Nuraghe Sant'Antine di Torralba.



Cagliari


Su Nuraxi di Barumini,
Museo Archeologico



Sassari

- Museo G. A Sanna di Sassari



Tharros (Oristano)


?Remains of urban complex
Tempio Demertria & Kore
Santuario punico
Terme romane.