In this small church in the heart of old Naples, you can clearly see three centuries of artistic history of the city, from the Renaissance to the late Baroque. The church is located in the Spaccanapoli district on the south-east corner of Piazza S. Domenico. Also known as Cappella Brancaccio, from the surname of the family that commissioned its building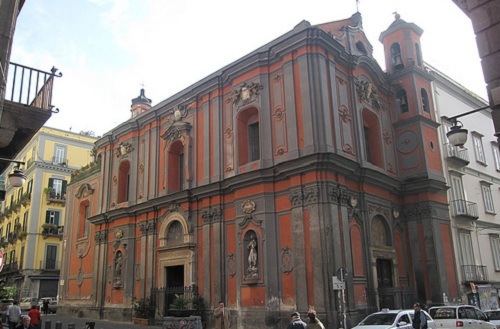 It was in fact founded by Cardinal Rinaldo Brancaccio in 1385 a Neapolitan nobleman who became a cardinal in 1384, as a family burial chapel dedicated to St. Angelo and Marco, next to his residence that overlooks the alley near Donnaromita.
From the church, you can access the cloister-court of the Palazzo Brancaccio, where in 1690 was opened the first public library in Naples, donated to the city by another distinguished member of the family, Cardinal Francesco.
The church was restored by Arcangelo Guglielmelli in 1385, which had the task of making more uniform the style edifice built over the centuries, he also raised the roof of the nave and created a large dome to give more grandeur to the building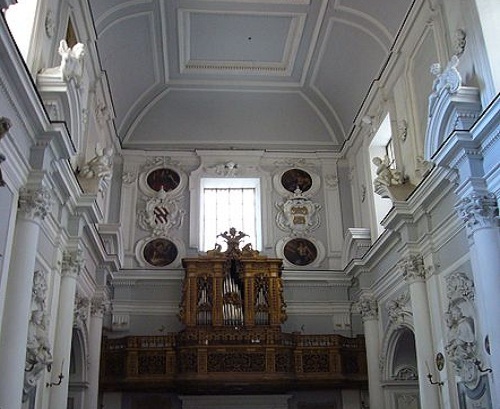 From the original construction of the church remains only the main portal, of Catalan Gothic style, with a lunette above the architrave decorated with a fresco, now preserved in the sacristy, which depicts the Virgin enthroned with Saints Michael and Andrea and with the donor, Cardinal Brancaccio, attributed to Perinetto from Benevento with a rare peculiarity: it is painted in fresco but on a gold background.
Also preserved inside is a true masterpiece of the Renaissance: the tomb of Cardinal Rinaldo Brancaccio, sculptural masterpiece of Donatello, Michelozzo and Pagno di Lapo: made in Pisa between 1426 and 1428, was subsequently transported to Naples. It's an extraordinary masterpiece that highlights the transition phase from the Gothic form to the Renaissance harmonic one as you may see on the 'stiacciato' of the low relief portraying the Assumption, a work by Donatello.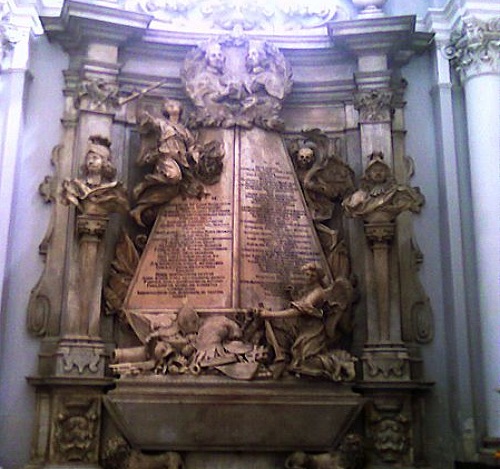 Another notable work is the altarpiece of San Michele, built by the Sienese artist Marco Pino in 1573.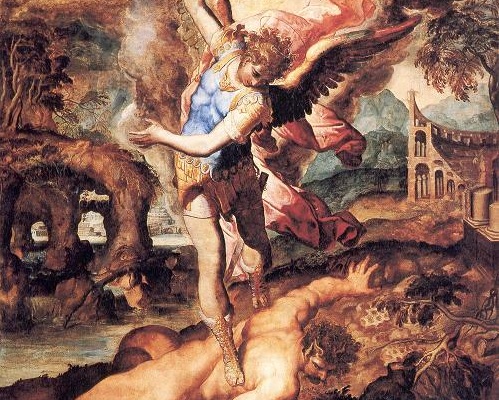 ---
Source : Excerpts adapted from : Campania Region - Wikipedia
---
- Naples Main Attractions -
Basilica Carmine Maggiore | Basilica St Chiara | Basilica St Francesco di Paola | Basilica St Paolo Maggiore | Basilica St Maria della Sanita' | Chiesa del Gesu' Nuovo | Chiesa St. Domenico Maggiore | San Gennaro Cathedral | San Gregorio Armeno | St Angelo al Nilo | St Giovanni a Carbonara | St Lorenzo Maggiore | St Maria Anime al Purgatorio | St. Maria Donnaregina Vecchia | St Maria Donnaregina Nuova | St Pietro a Majella | Museum Cappella Sansevero | Naples Galleria | Vulcano Vesuvio | Naples Underground | The Catacombs |
The Islands - Sorrento Coast - Amalfi coast - The Hamlets in Campania - Museums - Archaeology Sites - The region - The provinces - Napoli - Caserta - Salerno - Avellino - Benevento
---