Valle d'Aosta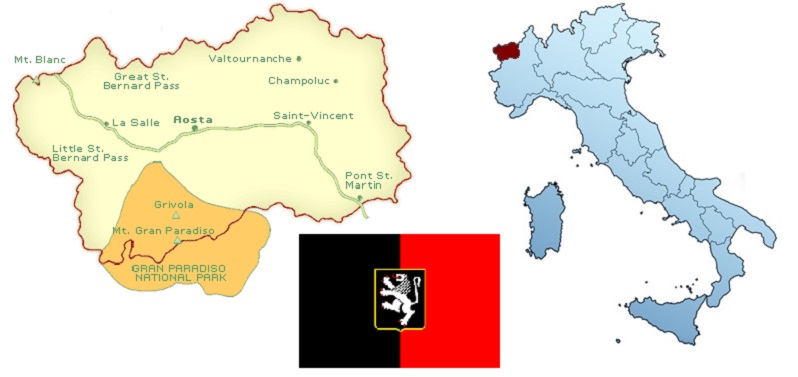 In short
POI
Where to stay
Excursions
Shopping
Italian and French are both official languages, though the native population speaks also Valdôtain, a form of Franco-Provençal (Arpitan), as home language.
The Aosta Valley was the first government authority to adopt Modern French as official language in 1536, three years before France itself

The region is an Alpine valley which with its tributary valleys includes the Italian slopes of Mont Blanc, Monte Rosa and the Matterhorn; its highest peak is Mont Blanc.

Aosta Valley may be divided into different climatic zones: The Dora Baltea Valley, between 300 and 1000 metres, with the mildest climate in all the province, has a typical Oceanic climate.
The winters are mild, even milder than the Po River Valley, but usually wet and foggy. Snow is frequent only during January and February, but the foggy season, which starts in late October, lasts until May.

The first inhabitants of the Aosta Valley were Celts and Ligures, whose language lingers in some local placenames.
Rome conquered the region from the local Salassi ca. 25 BC and founded Augusta Prætoria Salassorum (modern-day Aosta) to secure the strategic mountain passes, which they improved with bridges and roads. Thus, the name Valle d'Aosta literally means "Valley of Augustus".

The Aosta Valley remained agricultural and pastoral until the construction of hydroelectric dams brought metalworking industry to the region. Agriculture has become increasingly specialized, retaining only a marginal interest in cereals, potatoes and fruit.

Wines of high quality are produced in small quantities.
The cuisine of the Aosta Valley is characterized by simplicity and revolves around "robust" ingredients such as potatoes, polenta; cheese and meat; and rye bread. Many of the dishes involve Fontina, a cheese with PDO status, made from cow's milk that originates from the valley.
Spring is the perfect time to start planning your next adventure.
On this pages you will find trip ideas to plan your visit to the Bel Paese. If you wish to share your Italian experiences on our site we would be pleased to pass them on. Let us know.
La vetrina ideale per promuovere i vostri prodotti e servizi sul mercato Nord Americano ma che potrebbe essere un punto di visibilità anche nei vari mercati internazionali.

---
Paesi di provenienza dei visitatori in ordine numerico
Stati Uniti - Canada - Italia - Gran Bretagna - Australia - China - Germania - Francia - Nuova Zelanda - Olanda
Coloro interessati ad inserire la loro attivita'/azienda/ nel sito
sono pregati di mettersi in contatto usando il modulo soprastante
Per saperne di piu'...