The fourteenth-century church or "old" S. Maria Donna Regina overlooking the square of Donnaregina is another of the greatest testimonies of medieval Naples.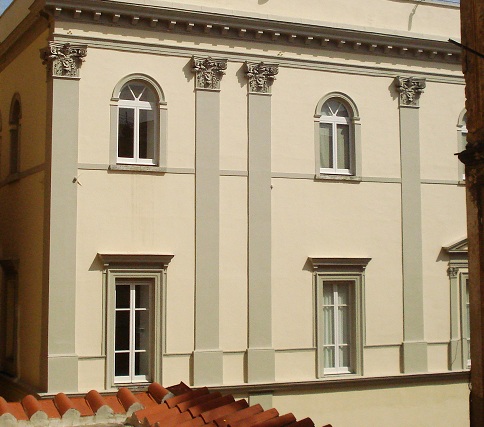 As part of the convent the church was never meant to be open for public worship.It was built thanks to a donation by queen Mary of Hungary, consort of the king of Naples, Charles II of Anjou between 1307-1316 on the remains of a previous church of the VIII century already documented in 780 and dedicated to St. Pietro del monte.
The new church was to be part of the cloister complex of the Clarisse Nuns. The queen herself entered the convent following her husbands' death.
Work was completed around 1320, at which time the church also welcomed the burial of the queen, consisting of an extraordinary marble tomb built by Tino Camaino and Gagliardo Primary located in the left aisle and portrays the lying queen wearing a Franciscan dress, sustained by the four Virtues, with two Angels opening curtains to show her.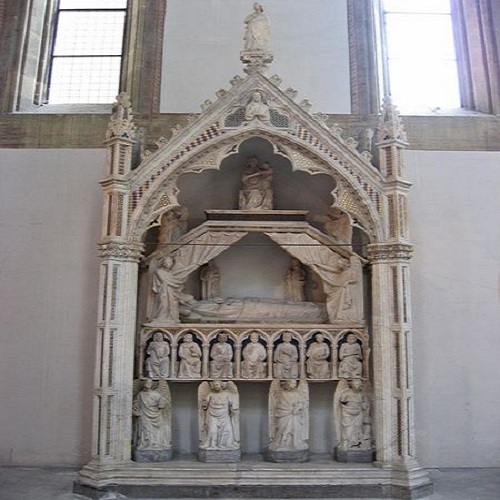 Decorated in azure mosaic the sarcophagus has four small niches with columns and agival arches containing statues of the queen's sons.
The church, whose architectural shapes have been brought to light after the restoration of 1928-1934 presents a polygonal apse with slender walls and octagonal small pilasters that hold up the Coro delle Monache.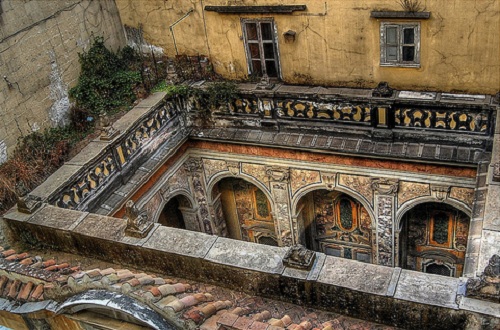 But the most significant transformation occurs around 1620, when the nuns decided to build a new church more suited to the taste of those times. The new project was entrusted to Giovanni Guarini.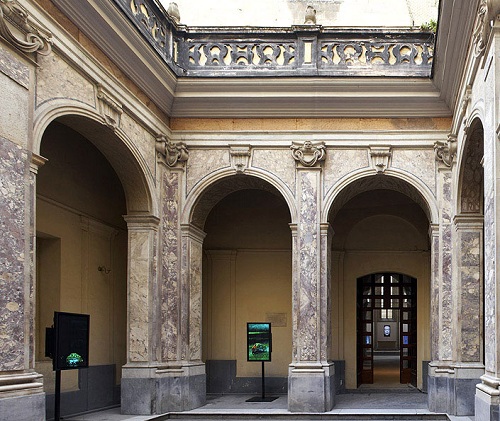 At the beginning the sixteenth century the church underwent further transformations, such as the creation of a coffered ceiling and richly carved wooden trusses concealing the original ceiling and some of the frescoes.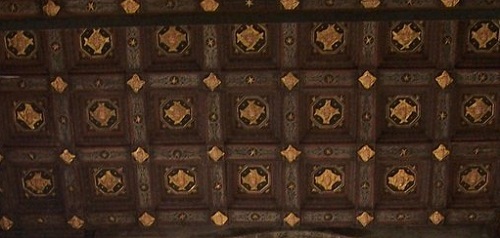 Contrasting the simple bareness of the interiors was a rich cycle of frescos implemented over a fifteen years period attributed to Filippo Rusuti and Pietro Cavallini (or some of his followers). Some of the frescoes are still well preserved in the upper part of the church. Of great importance the Giotto school frescoes in the Cappella Loffredo.
In the lower level are 17 episodes of Jesus, 5 of St. Elizabeth and four of St. Clare, paired to a Last Judgement, the latter certainly attributable to Cavallini. In the upper one are six scenes of St. Agnes.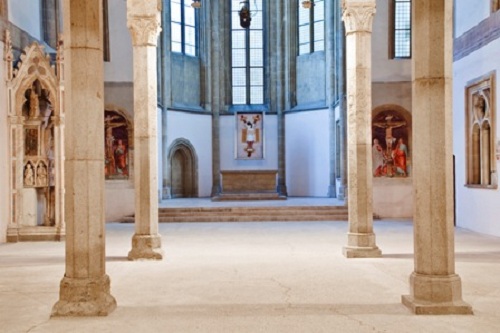 From the same period, but by unknown artists, are the Crucifixion frescoes on the left wall and the Annunciation on the wall facing the entrance.The triumphal arch of the apse has two frescoes with the Crucifixion; the apse has remains of majolica-covered pavement from a Neapolitan workshop of the Angevin era (late 14th-early 15th century). Also present is a Martyrdom of St. Ursula attributed to Francesco da Tolentino
Excerpts adapted from Wikipedia and In Campania website
---
- Naples Main Attractions -
Basilica Carmine Maggiore | Basilica St Chiara | Basilica St Francesco di Paola | Basilica St Paolo Maggiore | Basilica St Maria della Sanita' | Chiesa del Gesu' Nuovo | Chiesa St. Domenico Maggiore | San Gennaro Cathedral | San Gregorio Armeno | St Angelo al Nilo | St Giovanni a Carbonara | St Lorenzo Maggiore | St Maria Anime al Purgatorio | St. Maria Donnaregina Vecchia | St Maria Donnaregina Nuova | St Pietro a Majella | Museum Cappella Sansevero | Naples Galleria | Vulcano Vesuvio | Naples Underground | The Catacombs |
The Islands - Sorrento Coast - Amalfi coast - The Hamlets in Campania - Museums - Archaeology Sites - The region - The provinces - Napoli - Caserta - Salerno - Avellino - Benevento
---