Villarosa-Calabria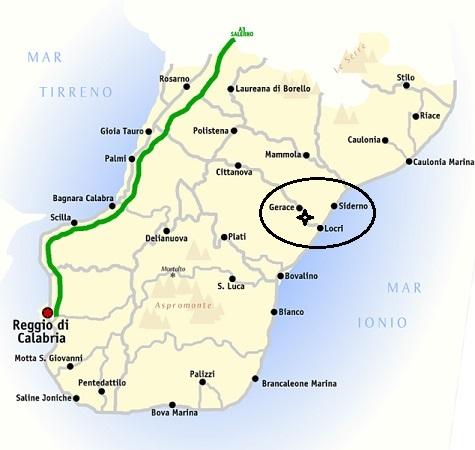 Welcome to Villarosa, halfway between the beautiful beaches of Locri facing the Ionian Sea and the magnificent hills of the Aspromonte .
Three kilometers distance away is the town of Gerace, listed as one of Italy's most charming hamlets, rich of secular history, and known as the city of 100 churches.
Gerace is considered the Florence of the south and is the destination of discerning tourist, lured by its art, culinary history, shops, antiques, linens, ceramics and breathtaking views.
Located within the National Park of Aspromonte, Gerace is a town of 2,842 inhabitants still retaining a medieval charm and setting.
The inner city, especially the old town, is rich in churches and historic houses.

The area offers an abundance of activities for you and your guests to choose from, including wine tasting, cooking classes, cultural tours, hiking or just simply relaxing at the nearby beaches.

The year around mild climate and the charm and warmth of the local people will add an unforgettable touch to your visit.
For more info's
please contact the owner
rosannaroe@yahoo.com
E-mail
About the villa : It was built upon a breezy hill, nested in a garden of secular olive and fruit trees, not far from the beaches.

Villarosa is the perfect spot to spend a relaxing holiday relishing the sun and the views of the surrounding rugged mountains and the valleys and seas below.

Breathtaking sunrises and sunsets can be enjoyed from the various balconies and terraces of this idyllic villa creating the right atmosphere for a romantic stay

.

At night you can enjoy the views of thousands shiny lights from the many villages scattered along the mountain sides like stars in the sky while listening to the thundering noises of fireworks celebrating the many events held through the summer.

The interior features a very large dining and setting room complimented by a wood burning fireplace is conveniently located on lower floor, so is the well equipped kitchen.

A pantry, bathroom with walk-in shower and laundry facilities are also located on the first floor, that opens to a garden with olive trees and various other fruit trees.

Dining seats 8 - Dishes & Utensils - Toaster - Stove - Cooking Utensils - Pantry Items - Stove - Refrigerator - Freezer - Coffe Maker - Blender - Oven - Tv-Satellite - Cable - Cd player - Internet - AC

The marble stairs lead you to the second-floor where tree-bedrooms, large sitting area, the French bathroom with shower and bidet and washing machine are.

3 spacious bedrooms - 2 queen beds - one double - One queen pull out bed is also available in the living room.

720 Km from Rome International Airport-Driving hours 8 1/2.

You might (should) consider making a (detour) stop or two on the Amalfi Coast.

120 Km from Lamezia Airport - Driving hours - 1 hour 59 min.

Thank you for choosing Calabria

Things to do and
places to visit when in Villarosa.

Lamezia Airport is approximately one hour away and so is the city of Reggio di Calabria, your gateway to Sicilia.

Touring the Sicilian islands can be booked at any local agency.
A local bus will most likely be available for the ride to the port .

Locri Epizephyrii, also called Locri.
Ancient city founded by Greeks c. 680 bc; the inhabitants used the name of Locri Epizephyrii to distinguish themselves from the Locri of Greece.

The Ionian sea is clean, deepest blue and center of attraction for sea lovers of all ages.

The many 'Lidos' serve the clients with umbrellas, loungers refreshments and lunch/dinner.

Some of the small restaurants have no set menus, they serve the catch of the day'.
The atmosphere is quiet and one can spend the day sailing, paddling, motor boating or take long walk along the 3.5 km long promenade.

The archeological site of the ancient Locri Epizephyrii is located few kilometers away from the modern Locri .

Special visits to surrounding islands archeological sightseeing can be arranged upon requests.
Summer musical performances under the stars are been held in its 2000 year old amphitheater.



A visit to the museum
is strongly suggested.

Festival at
Roccella Jonica

A few km away is the little town of Antonimina, poor in history but rich in peace and serenity.
Here you'll find the newly inaugurated Terme Antonimina Locri - mineral springs, mad treatments, therapeutic baths to cure osteoarthritis, rheumatism, dermatological diseases, sinusitis, sclerosis etc.


(Opens from May to November).

If you feel adventurous enough you might want to consider driving to the abandoned town of Pentadattilo or
Roghudi for an unforgettable picnic... don't forget to check your camera's battery.

In nearby Reggio di Calabria you can admire "I Bronzi di Riace".
(about 95 km). The two majestic statues were discovered by chance in 1972...learn more. .

Another place to consider visiting is the Sanctuary dedicated to Our Lady of the Mountain for the "festa della Madonna" near San Luca (34 Km).

The culmination of this festival being on the first week of September, is a baccanal of beautiful confusion and madness...read more...

Festival -Sagras

You will notice many posters advertising this local festivals, very often involving food, and frequently a historical pageant and sporting events.
A very good opportunity to mingle with locals and taste some very good food.
The array of gastronomic specialties found at this events will amaze you.

One of the many reviews about Villarosa

Villarosa is a wonderful place to relax and enjoy the beautiful, breathtaking views.
It is comfortable and has every amenity to make your stay absolutely perfect!

It is spacious and comfortable and very well maintained!
It is clean and airy and we would love to stay there again and again!

We particularly enjoyed the Tartufo di Pizzo (hazel truffle).
Rianaldi's Ristorante and Bakery in Gerace is also worth noting.
The cookies were delicious!!!

We also loved all of the history of Locri and Gerace.
Such a beautiful spot on the planet and Villarosa is the place to enjoy both cities!

There is a wonderful museum and ruins to visit nearby in Locri; and Gerace houses the most beautiful church and museum as well.

We hope to go back someday soon and we will definitely stay at Villarosa!!!

We would not hesitate to recommend this beautiful home to our friends and family and we have enjoyed showing our pictures over and over again!



Thank you Rosanna, Santina and Marisa for such loving care.
La vetrina ideale per promuovere i vostri prodotti e servizi sul mercato Nord Americano ma che potrebbe essere un punto di visibilità anche nei vari mercati internazionali.
AZIENDE - PRODUTTORI - STRUTTURE RICETTIVE - GUIDE TURISTICHE - TOUR OPERATORI
Ai nostri visitatori piace il Sud Italia, vuoi dire loro qualcosa?
Il nostro obiettivo e' quello di promuovere prodotti tipici del Sud in un contesto di marketing globale, e allo stesso tempo proporre il nostro Meridione come alternativa turistica, ben consapevoli che il successo dell'uno è essenziale per il successo dell'altro.​​
---
Paesi di provenienza dei visitatori in ordine numerico
Stati Uniti - Canada - Italia - Gran Bretagna - Australia - China - Germania - Francia - Nuova Zelanda - Olanda
Coloro interessati ad inserire la loro attivita'/azienda/ nel sito
sono pregati di mettersi in contatto usando il modulo sottostante .
Per saperne di piu'...