Business Profile:
The "San Sebastian" is a farm located near the town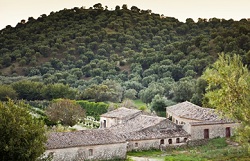 of Strongoli, surrounded by olive trees, where once stood the ancient Petelia, in the province of Crotone.
According to legend, the ancient Petelia (Strongoli today) was founded in 1185 BC by Philoctetes from Melibea, Greek city of Thessaly during his voyage back home from the Trojan war and became a flourishing center of Magna Graecia.
The Fattoria San Sebastiano has itself a distant past. It belonged first to Prince Pignatelli (1767) and then Baron Giunti.(1810). It was purchased in the early '900 by Romano Brothers, which kept intact the original architectural heritage (buildings, walls, wells, cisterns, there is also an old mill, still in working condition.)
New farming systems and new technologies are being integrated into the local agricultural tradition allowing for a high quality product, tailored to modern market demands, without abandoning the old and authentic flavors of our land.
In 2010 at the international contest "TERRAOLIVO 2010", held in Jerusalem, in the category of organic oils, the Fattoria San Sebastiano won the coveted Gold Medal as the year's best olive oil, a prestigious award considering that it was attended by representatives from 18 countries.
The organic extra virgin olive oil produced by the Fattoria is made exclusively from its own olives. The olive grove covers an area of ​​approximately 25 hectares. The cultivars are: the 'tonda' di Strongoli, Carolea, Nocellara Belice, Nocellara Etnea Biancolilla, Leccino, Frantoio and Coratina.
Products showcase:
Flavored Organic Olive Oil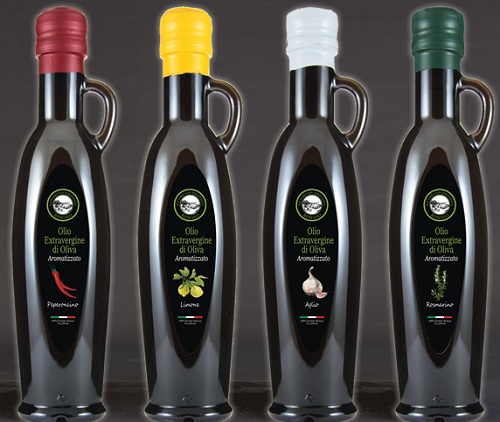 Extra Virgin Organic Olive Oil - Sizes : 25 cl

Extra virgin Organic Olive Oil-Comes in 3 sizes: 75 - 50 - 25 cl.


Extra Virgin Organic Olive Oil - 50 cl
1 litre = 100cl = 100ml
75 cl = 25.360517 US fluid ounces
50 cl = 16.9070114 US fluid ounces
25 cl = 8.45350568 US fluid ounces
Although the San Sebastiano olive oil has been available in Canada from time to time, thanks mostly to personal initiatives, there has never been an official commitment to guarantee a steady supply and a steady delivery.
We are therefore looking for that market niche, eateries-gourmet and specialty stores, whose discerning clientele can appreciate a high quality product and consequently generate a demand that would justify importing the product on a regular base.

Product Information Request