Campania has a unique eno-gastronomic heritage rightly recognized since ancient times, both the Greeks and Romans acknowledged the superiority of the wines and the purity of olive oil from the "Campania Felix" (happy and fertile land ).
But in the last 30 years, new eating habits, new production models and a distorted perception by consumers have relegated millenarian eating habit traditions to a marginal position where quality has given the way to profitability and standardized taste. Now at last, thanks to a new consumer awareness about the importance of a proper and healthy diet, combined with a renewed interest in the traditions of their land, this heritage has returned to fore.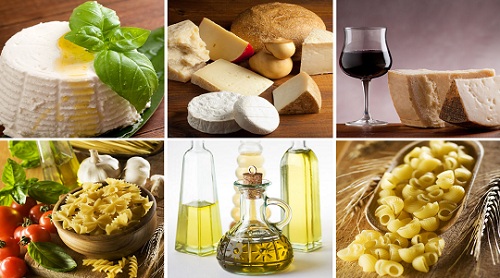 The rich Campanian cuisine varies within the region. While Neapolitan dishes center around seafood, Casertan and Aversana rely more on fresh vegetables and cheeses. The cuisine from Sorrento combines the culinary traditions from both Naples and Salerno.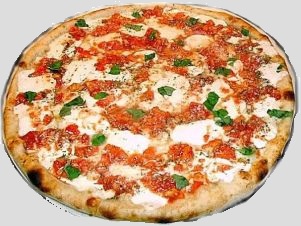 Pizza was conceived in Naples. Historical and original pizzas from Naples are pizza fritta (fried pizza); Calzone (literally "trouser leg"), which is pizza fritta stuffed with ricotta cheese; pizza Marinara (pizza seamans' style), with just olive oil, tomato sauce and garlic; and pizza Margherita, with olive oil, tomato sauce, mozzarella cheese and basil leaves.
Neapolitans were among the first Europeans to use tomatoes not only as ornamental plant, but also as food and garnish.
Spaghetti is also a well-known dish from southern Italy and Campania. Traditionally in Naples pasta must be cooked "al dente".
Campania produces a variety of wekk known wines including Lacryma Christi, Fiano, Aglianico, Greco di Tufo, Pere 'e palomma, Ischitano, Taburno, Solopaca, and Taurasi.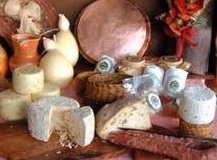 The cheeses of Campania consist of Mozzarella di Bufala (buffalo mozzarella) (mozzarella made from buffalo milk), fiordilatte ("flower of milk") a mozzarella made from cow's milk, ricotta from sheep or buffalo milk, provolone from cow milk, and caciotta made from goat milk. Buffalo are bred in Salerno and Caserta.


Several different cakes and pies are made in Campania. Pastiera pie is made during Easter. Casatiello and tortano are Easter bread-cakes made by adding lard or oil and various types of cheese to bread dough and garnishing it with slices of salami.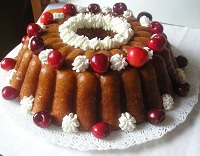 Babà cake is a well known Neapolitan delicacy, best served with Rum or limoncello (a liqueur invented in the Sorrento peninsula).

It is an old Austrian cake which arrived in Campania during Austrian domination of the Kingdom of Naples and was modified there to became a "walking cake" for citizens always in a hurry for work and other pursuits.
Sfogliatella is another cake from the Amalfi Coast, which is beginning to be known worldwide, as is Zeppole, which is traditionally eaten on Saint Joseph's day. Struffoli, little balls fried dough dipped in honey, are enjoyed during the Christmas holidays.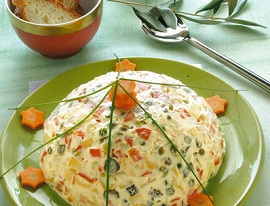 Another well-known Campanian dish is the so-called Russian salad (which is based on similar dishes from France), made of potatoes in mayonnaise garnished with shrimp and vegetables in vinegar. Russians call this same dish Olivier Salad, and Germans call it Italian salad.
Another French-derived dish is "gattò" or "gateau di patate" (oven-baked pie made of boiled potatoes).

As with the Russian salad, Campania is home to other seafood-based dishes, such as "insalata di mare" (seafood salad), "zuppa di polpo" (octopus soup), and "zuppa di cozze" (mussel soup), are popular.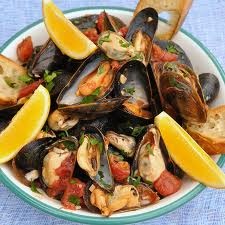 Other regional seafood dishes include "frittelle di mare" (fritters with seaweed), made with edible poseidonia algae, "triglie al cartoccio" (red mullet in the bag), and "alici marinate" (fresh anchovies in olive oil).
Rapini (or Broccoli rabe), known locally as friarielli, is often used in Campanian cooking. Campania also produces many nuts, especially in the area of Salerno and Benevento.

The island of Ischia is famous for its fish dishes, as well as for cooked rabbit. Campania is home to the beautiful and tasty lemons of Sorrento, which were much loved by German writer Johann Wolfgang von Goethe: "Kennst du das Land, wo die Zitronen blühn?" ("Do you know the land where the lemon-trees bloom?), Goethe, Mignon.