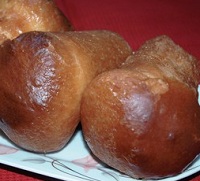 Babà - The origin of the babà cake is to be found in 18th century Poland, at the court of King Stanislao Leszczinski. The story recounts that the king spilt by mistake a bottle of rhum on top of a cake, made for him by his cooks, so creating the babà.
Stanislao personally chose the name for two reasons: firstly, to dedicate it to Alì Babà, the famous character from One Thousand and One Arabian Nights, a book that the king loved to read over and over again, and secondly, because the word "babà" is translatable as "old lady", a reference to the softness of the cake which is particularly useful for tootheless people. The babà made its way to Paris where it was greatly appreciated. It was then brought to Naples by the "monsù", a distortion of the word monsieur, i.e. the French cooks who served the Neapolitan noble families.
In Naples the babà was then perfected, finding its distinctive peculiarities: the softness, gained by wetting it in water and sugar, and the distinctive mushroom-like shape. For these reasons, the babà today is considered an original specialty from Campania.
The cake is made with soft grain flour, eggs, butter or lard, salt, sugar, and yeast. It is put to rise twice and is cooked in the oven and it is wet with a solution of water and sugar, which has been aromatized with lemon or rum, before being served. The classic babà, as well as the chocolate and cream varieties, can be found in every workshop of the region.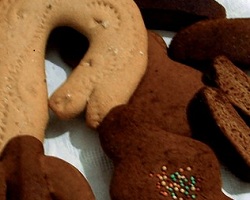 Biscotti al miele - Cilento, close to Salerno is an area with a lush and varied vegetation, and for this reson it's a paradise for bees looking for nectar. Due to these particular conditions, apiculture and honey production is a very ancient tradition in Cilento.
Honey has always been an ingredient in local recipes: especially in the towns of Calore Salernitano and Alburni where biscuits, also known as "pupette" or "mustacciuoli", are made with local honey and are offered at weddings and other local festivities.
The biscuits made with honey have a soft consistency, a more or less brownish color, depending on the kind of honey used, and come in different shapes: long ones, square shaped or animal and human forms. Sometimes they're enriched with little hundreds and thousands.
The preparation is quite simple: the local honey is heated and skimmed with flour to obtain a consistent dough to which salt is added, and, according to some recipes, a bit of ammonia. Then the dough is mixed with olive oil to give the desired shape; and then brushed again with olive oil before being placed in the oven. In some towns, occasionally recipes can be found where other ingredients such as olive oil, minced nuts, eggs, cinnamon and lemon peel have been added to the dough.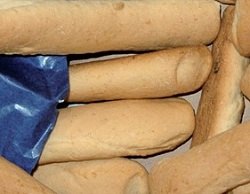 Biscotti di Castellamare - The history of the biscuits from Castellamare, a town on the coast near Naples, is very ancient and full of charm. It seems that the recipe of these delicious biscuits was created by a local family in the 19th century and jealously guarded through generations until during the last century a series of mysterious and brutal deaths in this family were caused by the refusal to sell the recipe.
Maybe it was fanciful imagination that put the unrelated events together, but it surely helped to create an interest about the delicious cigar-like biscuits that are now produced on a industrial basis.
The ancient recipe requires flour, sugar and natural aromas, the whole of which is levitated naturally and baked in an oven. The typical shapes are either long or little rings called "freselline", and are still packed in the blue paper used by the pasta-makers from Grangnano. The Castellamare biscuits can be eaten soaked in Acqua della Madonna, whose springhead is also found in Castellamare.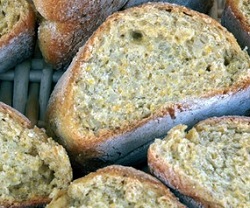 Biscotto di grano integrale e di granone (whole grains biscuit) - The whole meal and corn biscuits belong to one of the oldest traditional product of a small town called Agerola, situated in the Neapolitan area. Even though this recipe was invented in Agerola a long time ago, the original techniques and ingredients are still used today in a prosperous and active production of the biscuits.
The dough of these salty biscuits is made of water, levitated dough, whole meal and white flour, for the first and corn flour and wheat flour for the second. The making process is the same: the dough is worked into long loafs that are cut in slices and left to rise for over 3 hours in open air. After being baked the loaves are left to cool and then the slices are separated and put in to biscuits tins for over 7 hours.
After being left to cool, they're packed and sold in the area. Recently distribution has reached many countries far from their place of origin. The shape is similar to thick bread slices with a crunchy consistency; mostly consumed with tomatoes after being slightly soaked in water or, in the case of corn, with milk for breakfast.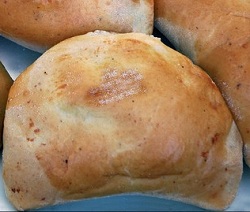 Calzoncelli, also known as "Pasticelle di Natale", are cakes prepared during the Christmas period in the entire region, especially around Salerno, Sannio Beneventano and Irpinia. They are small fried cakes made of a thin pastry prepared out of flour, sugar, white wine, salt and eggs, in the shape of a small half-moon or round and covered with icing sugar.
The Calzoncelli's filling is made of local products: chocolate, pine nuts, dried pears, cocoa, coffee, fragrances, mashed chestnuts all mixed to sugar. The Pasticelle's rim is irregular and can have different shapes according to creativity; the taste of the chestnut mash dominates the taste and is the characterizing ingredient. Hence, people often don't wait for Christmas but start preparing them as soon as the chestnuts are in season.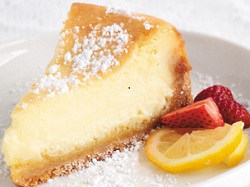 Migliaccio - In the olden days, flour from millet flour was used for many recipes, so the name "migliaccio", which derives from millet, has been given to many regional dishes which use it as a main ingredient.
In modern cooking millet flour has been substituted by cornflour which is now used to prepare migliaccio napolitano in the whole neapolitan area. It's a typical winter cake, made during the Mardi Gras season, round in shape and 3 or 4 cm high. The dough is made out of semolino, ricotta, eggs, milk, sugar, salt, candied orange cubes, cinnamon, vanilla and orange aromas.
The ingredients are mixed and cooked together in a copper or iron pan. After leaving the dough on the stove for an hour and stirring continuously with a wooden spoon, it's fitted in a round pan and baked in the oven for an hour, until the surface becomes a pleasant golden yellow colour.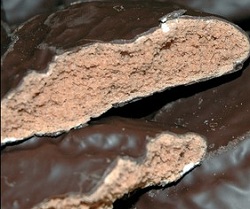 Mustaccioli - Mustacchi are the big bushy moustaches which gentlemen used to wear in the olden days. Therefore, i mustaccioli, delicious cakes with a long standing tradition, often cited in many Neapolitan literature and theatre plays, are called this way because their squared shapes resemble moustaches.
Mustaccioli are prepared in the whole Campania during Christmas time. They are biscuits of different consistencies depending on the dough, which is made of honey, flour, water, yeast and spices. The dough is left to rest and then baked. In the end the mustaccioli are covered with white or black icing, obtained adding powdered cocoa to the white one. Mustaccioli are sold in every artisan cake shop during Christmas.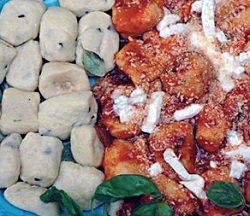 Ndunderi is the name of a typical kind of handmade pasta from Minori, near Salerno. The ndunderi's recipe, typically used during the celebration of Saint Trofimena, is very ancient. It could be a variation of the ancient Roman "palline latine", based on "farina caseata", i.e. hulled wheat and curdled milk.
The pasta makers from Minori modified the recipe, which is the same one that in the 7th century crossed the Monti Lattari and settled in Gragnano to build a modern pasta industry. The modern recipe requires dough made of flour and curdled milk or ricotta, egg yolk, ground cow cheese, salt, pepper and nutmeg. It's handmade and the dough is made into a long cordon, not too thin and cut into small pieces slided with the pressure of one or two fingers depending on the size. Then the pieces are slipped on a grater, a fork or a striped panel called "pettine". The preferred sauce is usually Ragù meat sauce.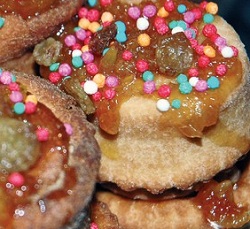 Cartellata - In the area of the Sorrento peninsula, not far from Naples, a cake called "cartellata" has always been prepared around the vintage season.
The etymology of the word is quite uncertain, some relate it to the Late Latin word cartellus or cartallus, which means basket and refers to its typical shape that recalls an interlaced basket. Cartellate are thin slices of dough made of flour and eggs, twisted in different shapes and fried. After being cooked the final touch is added by soaking them in boiling must. Although, they are prepared in Autumn and kept in big glass jugs or traditional tin boxes, they are considered a Christmas cake.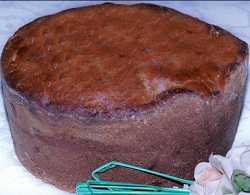 Casatiello dolce - The Neapolitan Casatiello originated as a salty cake. However, it is also prepared in a more recent variation as a sweet cake. The cakes ingredients are flour, sugar, lard and yeast, which are mixed with candied fruit and many aromas like cinnamon, vanilla and flower water.
The secret of its success is in the energetic kneading of the dough, which is necessary to obtain a soft consistency, and in the long time spent to allow the dough to rise in a favourable environment. After being cooked in the oven the cake is dressed with hundreds and thousands and icing. The sweet casatiello is made at home or in artisan laboratories and sold during the Easter period.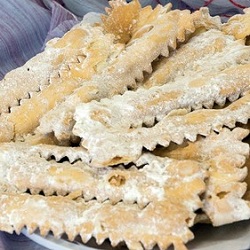 Chiacchiere - In the entire Campania region, during the Mardi Gras period, a fried cake called chiacchiere are prepared. Chiacchiere, jolly cakes like Mardi Gras, have a distinctive shape and consistency: tender and crispy, they are cut into irregular ribbons that are entwined in different ways.
The dough is made of sugar, flour, water and eggs mixed to a liqueur wine or as an alternative soaked with liqueur. After being entwined, the chiacchiere are fried and once they are carefully dried on absorbant paper, they are sprinkled with a lot of icing sugar.
Chiacchiere are prepared together with Sanguinaccio, a chocolate cream dip.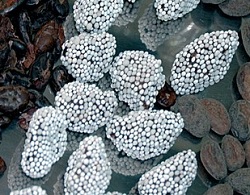 "O' Cunftton" is a gastronomical specialty invented centuries ago in the city of Salerno and is very widespread in towns around the area, especially Cava De' Tirreni.
As the name suggests, it's a large sugared almond twice as big as a normal confetto and covered with "diavulilli",
(little coloured sugared almonds) i.e. hundreds and thousands, instead of the normal icing.
It's made out of the kneading of whole cocoa seeds: the seeds are slightly toasted and then dipped in dark chocolate, using the forefingers and thumbs of both hands the seed is covered with a paste of minced cocoa, sugar and a little bit of water. The confettone is immersed into the diavolilli and left to dry for 20 minutes. There's a variation to the diavolilli that consists in dipping the confettone in bitter cocoa to obtain a taste similar to a "tartufo", only more bitter.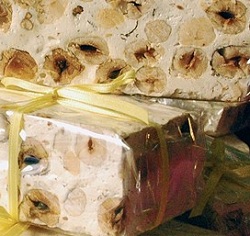 Copeta - An ancient traditional torrone (chocolate nougat), which is still produced in the Campania areas around the cities of Benevento, Avellino and Salerno.
The name derives from the Latin word "cupida", which means "desired". Copeta "Cupida" or "cupita", was desired for it's delicious taste, and is cited by many Latin authors, such as Tito Livio. It is recognized as the torrone's ancestor in Benevento.
It's a firm white torrone with tasty nuts, almonds and often pistachios. It's made in a "torroniera", a fast rotating appliance where honey and sugar are heated up to 80°C and mixed with egg whites diluted in water prepared the day before. The last stage mixture is made in the "torroniera" on slow rotation in which icing sugar, vanilla, nuts, almonds or pistachios are added already heated so that they maintain the same temperature of the mix. Finally the dough is shaped into big slabs which are cut in pieces to be sold.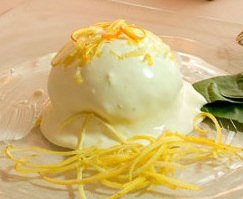 Delizia al limone is a more recent sweet compared to the traditional cakes from Campania. Originating on the Sorrento and Amalfi coast, it was invented in the seventies. It's a small sponge cake covered and filled with whipped and lemon cream.
The sponge resembles a small cream puff of different sizes according to the area and once baked it is filled with cream made of milk, flour, egg yolk, lemon, sugar and cream. Decorations are made with lemon and whipping cream. It has to be consumed freshly done because can't be stored for more than 3 hours; it's mostly consumed on special occasions such as weddings where it often replaces the wedding cake.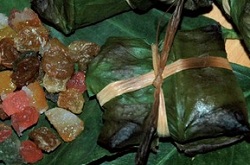 Follovielli are little sacks made of citrus leaves filled with sultanas and candied oranges; a specialty from Sorrento's peninsula, also known as "follarelli" or "fogliarelli".
Prepared from November till January, tradition demands that the sultanas are boiled in wine and wrapped with the candied oranges in citrus leaves tied with raffia. Before being served the Follovielli are left in the oven to dry. The name probably derives from the latin word, "folium volvere", that means "wrap the leaf" or from "follare" which means to "squash", or maybe from a more uncertain "folliculus", that means sack or shell. The recipe is very ancient, going back to Roman times, even though during those times figs, bananas or vine leaves were used instead of citrus leaves.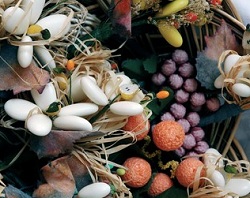 Palme di confetti are compositions made to look like small flower twigs or little trees. They are made with different sized coloured confetti (sugared almonds), which are set on a thin galvanized iron thread, heated with a candle flame to resemble petals and leaves on a little branch made of iron thread and covered with delicate and crinkled paper enriched with flowers, lace, grain and other creative material.
They are traditionally made in the Sorrento peninsula on the Palm Sunday celebration and are accompanied with olive branches. The 16th century traditional legend tells that Arabs were about to raid the peninsula right on Palm Sunday. While the whole population was gathered in church, waiting for the blessing before preparing to fight back the raid, the news came that the Arab fleet had miraculously sunk. A fisherman brought the good news to the church. He had found an Arab slave woman, the only one to survive the shipwreck, on the beach where she'd been taken by the waves.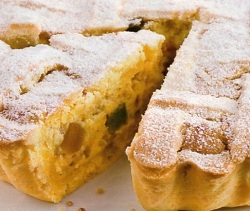 Pastiera is the most typical Easter Neapolitan cake of all; famous all around the world and ever-present on every table in Campania. A base of traditional short pastry, filled with a mix of ricotta, sugar, lard, duram wheat, eggs, perfume flower water and vanilla; the top is decorated with short pastry stripes positioned to look like lozenges. Pastiera is then cooked in the oven and sprinkled with icing sugar.
The modern version was created by the nuns of San Gregorio Armeno's monastery to celebrate the Resurrection through the symbology which unified the scent of the convent's orange gardens, the white ricotta, grain and eggs, symbol of new life, perfume flower water which smelt of Spring, citron and Asian spices. Since then the nuns, masters of the difficult manufacturing process, produced many pastiere for the noble and rich families. Pastiera must be done quite in advance, not after Thursday or Good Friday, so that it can rest and all the ingredients are put together in the typical round tin pans, in which it's cooked and even sold because otherwise it would break.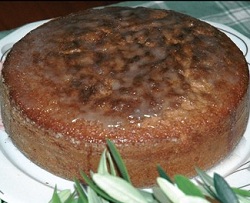 Pigna - In the inner areas around Benevento and Caserta, the culinary tradition passed down an ancient recipe of a soft cake called "pigna" or "pignatella" for its shape, higher than its width, which resembles a pinecone. Homemade during Easter time with soft grain flour, fresh beer yeast, eggs, mashed potatoes and aromas all mixed together with water. After kneading the dough, it is left to rise for 3 days before being baked and after being cooked it's covered in icing.
The pigna, which vaguely resembles a panettone, is prepared at home but can also be bought in artisan workshops during Easter time.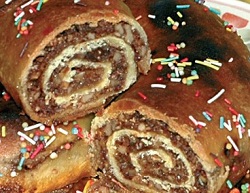 "Pizza figliata" also know as "serpentone", big snake, is a very ancient but not very widespread cake: it may have originated from the area of Camigliano, between Capua and Pignataro Maggiore, and has spread between the nearby towns of Calvi Risorta e Teano.
Cylindrical in shape and folded into a ring, sometimes as a slight spiral, it has a golden amber colour and is made with a thin pastry, filled with apples, ground nuts, sugar, and natural aromas. Similar to the Jewish cakes made in the south of Tuscany, it is made during Christmas time (the round shape representing the years' continuity) and kept till the second of February due to the honey's presence that keeps it unadulterated for months.
The preparation is an authentic ritual, passed down only in few families: the flour is kneaded with eggs, olive oil, sugar and white wine; the dough is homemade and left to rise for half an hour. Then the dough is spread on a wooden bench with a rolling pin and made into an elliptic shape on which ground nuts are sprinkled and, then, are added sugar, lemon and mandarin peels and honey. The pastry is rolled into a cylinder and folded into a ring.
After being cooked in a pan greased with olive oil, in ancient times it used to be fried in olive oil and left to cool, it's covered with honey first and then sugar. Some variations to the recipe add cocoa and sultanas in the filling, but the traditional recipe is more appreciated.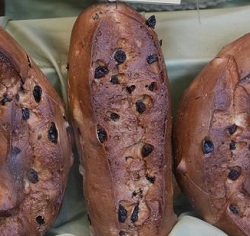 Puccellato - Puccellato derives its name from the phonetic and gastronomical transformation of the word "buccellato", the ancient bread that was given to soldiers in the late Roman era, and the etymology of "buccello", mouthful. The origins of puccellato, an Easter specialty, are so remote to be lost even in the memories of the people from Fregneto l'Abate, near Benevento, who invented it.
It's made in the oven and the original recipe has been passed down through generations and it surely dates from before the Middle Ages, since it's mentioned in documents from the 12th century as payment for rent. Two versions exist: a sweet and a savory version, different for some ingredients but made in the same way.
The base is made mixing 5 eggs and flour, in the sweet version with plenty of sugar, butter and natural aromas like vanilla, liquor, citron e sultanas. The savory version is mixed with suet, black grain pepper and a spoon of sugar. During kneading 7 eggs and yeast are added to the dough and then it's left to rest for over 2 hours before working it into the panella shape, which has to rise a lot before being baked. Either version of the Pucellato is always present at the tables of Fregneto l'Abate in Easter and can be bought in local workshops as well.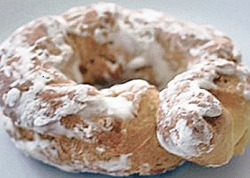 Raffiolo or raffiuolo of Campania is similar in name and shape to the raviolo salato from the North of Italy, but is a sponge cake, covered in apricot jam on an icing sugar base. Raffiolo's recipe is ancient and quite challenging: egg whites and yolk are whipped with sugar for 6–7 minutes and then mixed with more sugar, half a lemon, a quarter of a spoon of ammonia water, half a pack of vanilla and stiffly beaten egg whites. It's all put in a piping bag used to prepare pieces of pasta, which are 14 cm long each and are folded on greased and floured oven plates.
After baking for 10 minutes the pasta pieces enlarge and have to be taken out and left to cool. Then they're covered in icing sugar and brushed with apricot jam. They're covered with more icing sugar and left to dry again.
The icing can be prepared a few days before, so that when it rests it gains flavour. Before using it on the raffioli it has to be soaked in hot water, sugar and a pinch of baking soda on a slow flame. After it boils for a few minutes, it's taken out and poured in a round bowl and stirred until it becomes white and creamy.
A brush or a knife is used to rub it on the raffioli. Raffioli are rarely produced at home any more but they can be found in cake shops around Campania even in the "cassata" version, which is filled with ricotta cream, chocolate, sugar, candied fruit, cinnamon, maraschino and vanilla.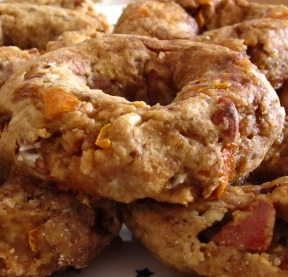 Roccocò's etymology comes from "roccia artificiale", artificial rock, because this Christmas sweet, presented on every table in Campania from the Advent day and the whole holiday season, is very hard and almost marblelike due the almonds. It's a dry biscuit that looks like a dark squashed doughnut with a dough made of almonds and candied fruit.
The original recipe says that the traditional roccocò has to be kneaded on a large working bench where in the middle of a big mound of flour will be put sugar, white pepper, cloves, candied fruit peels, half an orange ground peel, one or two drops of cinnamon essence, a drop of ammonia and finely roasted and ground almonds together with whole almond nuts.
The base is worked for a long time, continually adding water, until the right consistency, which musn't stick to the table, is reached. The dough is divided into little rings, brushed with eggs and baked for 10 minutes until they go brown. Roccocò is often consumed after a meal with liquors.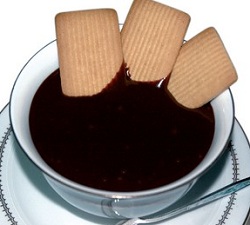 Sanguinaccio is a cream made of chocolate, milk and pig's blood. It is part of the old folkloristic recipes made at Mardi Gras and it was used to honour the killing of the pig, of which nothing is trown away, not even blood.
Necessary ingredients are the pig's blood, sugar, egg yolks, flour, milk, dark chocolate and cocoa, which are all mixed together and cooked in pots where they boil for about 10 minutes.
Sanguinaccio is served cold, dressed with candied fruit and chocolate pralines, and usually with chiacchiere or soft biscuits like "savoiardi". Today for sanitary reasons sanguinaccio is sold in a variation without the pig's blood.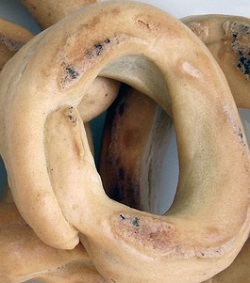 Scaldatelle or scavuratiell' are savoury round cakes which are made all over the south of Italy and traditionally in the central parts of Campania where cereals are grown.
They're called like this because they're usually heated ("riscaldati") and boiled in water before being baked.
The dough is kneaded by hand and made of grain flour, oil, salt, fennel seeds and sometimes eggs as well. It rises naturally and then cylinders are shape by hand which are overlapped at their extremities thus closing them.
The taralli are boiled with salt, dried and baked in the oven. They're golden, a bit crumbly and with a distinctive fennel taste.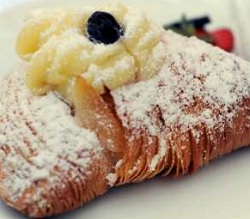 Sfogliatella di Santa Rosa - The Santa Rosa was invented in the monastery from which it's named in Conca dei Marini, near Salerno, and while in Naples it developed into sfogliatella riccia, in Salerno it was perfected according to the traditional recipe.
The filling was initially made of middling, milk, sugar and dried fruit regenerated in rosolio; the cream was spread on a "pettola", a friable pastry made of a small part of bread dough mixed with suet, sugar and a bit of wine and covered with another "pettola" of the same size. The cake had the classic hood shape and was put in the oven.
The name Santa Rosa was given to glorify the saint to which the monastery was dedicated. Others were made for the families in Conca and benefactors on the coast. The tradition was repeated every 30th of August, the day that celebrates Santa Rosa. A popular festival in Conca dei Marini still celebrates this kind of sfogliatella distributing thousands of these cakes made in local workshops to the people during the festivity. The filling is now made of semolina, ricotta, candied fruit, eggs, cinnamon and sugar; the outside "curly" pastry is made of flour, salt and water, kneaded for a long time until it reaches the right consistency. It is dressed with cream and rasberries syrup.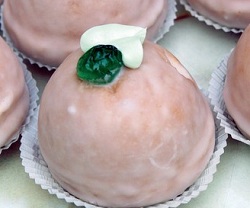 Sospiri al limone - Sospiri are small round sweets made from two sponge cakes with cream in the middle. They are an ancient specialty from the Amalfi coast, near Salerno.
Usually sospiri were filled with sweet cream, but in the last 20 years it has been substituted with lemon cream.
The sponge cake dough is made of eggs, sugar and flour in little moulds of the desired size, which are put on oven paper, covered in lemon cream and glazed sugar. Since the Amalfi coast is rich of lemons, sospiri are a specialty in all the restaurants and local workshop.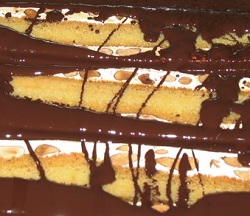 Spantorrone is a cake traditionally prepared in Avellino, whose recipe is made from families in the town of Grottaminarda, which gives it its complete name, spantorrone di Grotta.
It's a kind of friable pantorrone that instead of breaking in pieces crumbles into flakes.
The original recipe is made in the torroneria, a cooking device were honey and egg white are heated for many hours and later almonds, nuts and vanilla are added. Then it's laid in moulds and covered with sponge cake dipped in rum and Strega liqueur.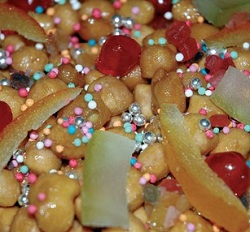 Struffoli are an ancient dish ever present on every Campania table during the Christmas holidays. The story tells that they were brought by the ancient Greeks when they founded Partenope, the ancient name of Naples.
The name derives probably from the Greek "strongulus" which means "rounded" and recalls their shape: struffoli are small fried balls made of eggs, flour and are mad compact by the honey, candied fruit and sugar confetti.
The ancient recipe was passed down from home to home and requires the dough to be made from flour, eggs, butter, milk, grated lemon, salt, vanilla or vanillina and kneaded for a long time. Then it's cut into small pieces that are rolled into little balls of 1 cm, which are fried in oil and mixed with honey. It's all handmade and served on a tray dressed with candied fruit and coloured confetti.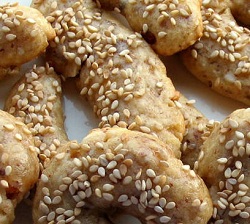 Susamielli - Even susamielli are part of the traditional cakes of Campania.
They are to be found all around the region and they're hard round or "s" shaped handmade biscuits served on Christmas day together with raffioli, mustaccioli and roccocò.
The recipe says that after kneading flour, honey, ground nuts and ammonia, the dough has to be spread and shaped as desired before being baked. In local slang "susamiello", maybe for the biscuit's hardness, is used to indicate a boring or heavy person.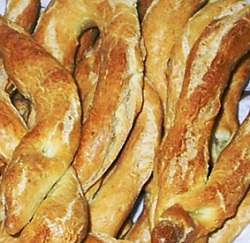 Li taraddi cu lu funucchiu, hot taralli with wild fennel are a speciality from Alta and Media Valle del Calore, near Avellino. It's a round salty biscuit, made with genuine ingredients made mostly during Easter and Christmas holidays. It's made kneading soft grain flour with melted suet or olive oil; to whiich are added salt, wild fennel seeds and a little water.
The handmade taralli are then heated in water and left to dry on cotton cloths before being baked. After being cooked the taraddi are left to dry for a few days and then kept in jugs covered with must. It's a home specialty that can be found in artisan workshops.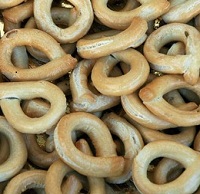 The recipe of tarallini al vino has been passed down through families from one generation to another around Naples. They are dried salty round biscuits, 2-4 cm wide, golden in colour and with a particular sweet taste given by the sugar that is mixed in the dough. They're made like taralli: flour and sugar are placed in a mound on the table, then a glass of wine, one of oil, one of sugar are added and they are all mixed together with a big fork and then by hand. When the dough is smooth, compact and soft enough, little 1 cm wide strips are made and closed into round shapes that are baked for 40 minutes until they're nicely coloured. Today you can buy tarallini al vino in packs made by local artisans that follow the ancient production rules.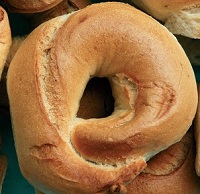 Taralli di Agerola with almonds and fennel - Agerola, near Naples, is the doorway to the Amalfi coast and the only place where the recipe of a fennel tarallo, named by the towns name, is produced.
The traditional recipe, which has survived orally and was passed down through generations in local artisan laboratories, is made by kneading water, flour, fennel, pepper, salt and natural crescito and made into rings or little braids that have to rise for half an hour in open air. After rising, each ring is put in boiling water for about 2 minutes before being baked and packed. The tarallo di Agerola is very crunchy with a strong fennel flavour.
A variation to the recipe, also very ancient, substitutes fennel with butter and whole or crushed almonds; this is known as "tarallo alle mandorle", it is identical in shape but more friable and, thanks to the almonds, it is slightly bitter-sweet.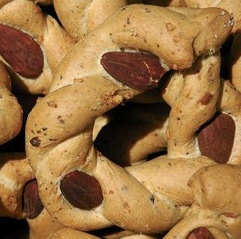 Tarallo sugna e pepe, in dialect "tarall' nzogna e pepe" is the snack that the Neapolitans usually take with them when they go out walking. It's an oven baked tarallo made of flour, suet and pepper and covered with almonds on the top side.
Like many traditional food products, the recipe comes from the creativity of ancient generations, who had to make the most of all the food resources they had at their disposals. So the bakers in the 17th century decided not to waste the dough left over from the bread by adding "nzogna", i.e. pig's lard, and lots of pepper in order to make small tarallini baked in the oven. In the begining of the 18th century the tarallo nzogna e pepe was decorated with almonds, another defining ingredient. Being characteristically poor food it was often consumed in taverns with cheap wine, while today it's a very popular snack, an appetizer, which can be bought fresh in bakeries and kiosks. To buy taralli at the kiosks in Mergellina during a walk near the sea is a "classic".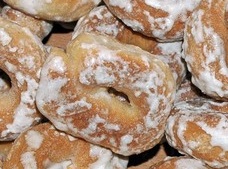 Tarallucci al naspro, invented and produced in the Fifties, are considered a modern variation of the classic biscuits from Castellamare with which they share the same place of origin and the same ingredients.
They contain flour, sugar and natural aromas, kneaded and left to rise naturally. Differently from the biscuits in Castellamare they're covered with "naspro", i.e. icing sugar, hence their name. They're little rings baked in the oven and they are crunchier than the biscotto di Castellamare.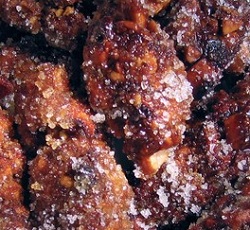 Torroncino di Roccagloriosa, as the name says is a specialty from Roccagloriosa, near Salerno, where it was made and offered at weddings when they where still celebrated at home.
Even Torroncini's production was exclusively homemade, a habit that is still maintained today. At home the almonds, sugar and water are prepared with a precise procedure. Once the almonds are ground, they're mixed with sugar, water and poured in a big pot.
The dough is continuously stirred with a wooden spoon and cooked on a large flame until it becomes caramel. Once taken off the heat, it has to be laid on a marble table covered in oil and smoothed out with a rolling pin; from the big piece little stripes of torrone are cut, about 1 cm wide and 5-8 cm long, which are dipped in a solution made of water and sugar, then passed in solid sugar and left to dry.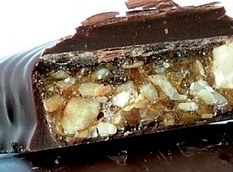 Torrone croccantino di San Marco dei Cavoti - San Marco de' Cavoti, near Benevento, has tied it's name to the production of a delicious torrone, very crunchy and covered in dark chocolate called "croccantino di San Marco de' Cavoti".
It's made by putting honey and sugar in a 80° hot torroniera. Egg white mixed with water, made the day before, is added in the torroneria, which rotates very fast. Then the torroneria is put on a slow speed and sprayed with icing sugar, vanilla and preheated almonds so that they have the same temperature of the dough.
The product is laid in moulds and when it cools down it is cut in slices. Even torrone croccantino is produced by many companies in Benevento that respect the ancient traditional rules and have exported the product outside regional borders, making it a treat to be tasted all over Italy.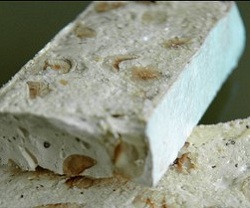 Torrone di Benevento - In Benevento, torrone production has always been popular, an activity that extended to all the province, especially distinguished for it's quality in Santa Croce del Sannio and Montefalcone di Val Fortore. But it was really thanks to the Borbones in the 18th century that the "cupeta beneventana" was valued, they made it the Christmas sweet par excellence and it gave origin to the tradition that still continues today.
There's different kinds of "torrone di Benevento": the white one with almonds, white torrone cupedia with nuts, soft white torrone with almonds and the crunchy torroncino covered in chocolate, typical of S. Marco dei Cavoti; they all have common traits: they're dry, sweet and friable.
The classic torrone from Benevento is made of simple ingredients: egg white, honey, nuts and almonds. Soft or hard, white or chocolate, with almonds or nuts, it's a superb treat, almost royal. Art and tradition, past and present are mixed in harmony: the choice of the ingredients, work and cooking are made with the same dedication of old times gone. Traditional artisan methods and respect for the old recipes guarantee quality and genuineness. The production companies have adopted technical innovations that don't alter the quality of the result and have they created new flavors and various assortments respecting the old recipes.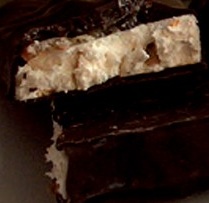 Torrone di castagna - Torrone di Castagne, also known as pantorrone or spantorrone di castagne is a specialty that has been produced for over 30 years in the area around Avellino, which is well known for chestnuts.
This particular kind of torrone is produced in Bagnoli Irpino, Cassano Irpino and Montella and it's made with the traditional dough of honey, egg white and icing sugar.
Enriched with a delicious chestnut filling, candied fruit or with cocoa or rum. It's produced by local companies that follow very strict production rules and sell it all over Italy.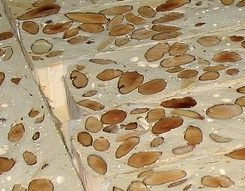 Torrone di Ospedaletto D'Alpinolo - During Christmas time in Ospedaletto D'Alpinolo, near Avellino, it is an ancient tradition to offer locally produced torrone, that takes it's name from the town. Traditionally this torrone was consumed during pilgrimages to the near Santuario di Montevergine.
Production respects ancient rules and is made in two kinds. The classic one is made of honey, egg white, toasted nuts or almonds; the other is made with a sponge cake filling. Both recipes are covered in a thick chocolate glaze and sometime dried fruit or a chestnut are incorporated in the dough.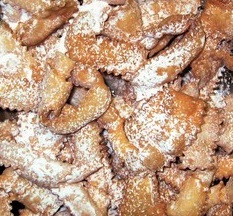 "Zandraglia" is a term introduced in the dialect from Boscoreale, near Naples, during the Angiovins' domination to indicate a salty typical country food.
It's prepared with eggs, flour and water. With time the zandraglia recipe has been modified and today it's a sweet made of flour, eggs and suet. It's made by cutting the laid out dough into irregular stripes that are fried, dipped in honey and covered in coloured confetti.
Zandraglias are similar to chiacchiere, but are not made during Mardigras but in the middle of July to celebrate S. Maria Salomè.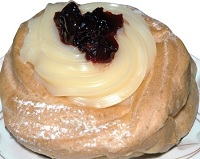 Zeppola di San Giuseppe - On the 19th of March, which Fathers day and San Giuseppe, in Campania it's strictly traditional to eat a cake called "zeppola di San Giuseppe". The zeppola has been around since the 17th century and it's a version of the ancient fried zeppola, a poor dish which is enriched, to honour the father, with cream and raspberries.
A simple cream puff dough is cut with special scissors and then made into rings with a hole in the center, which are fried in boiling hot oil. After being fried the rings are decorated with cream and rasberries and covered with icing sugar. Today there is a less fattening version of the zeppola, which is made in the oven instead of being fried.