Business Profile:
The workshop TessilArt owned by Mirella Leone has

been for over 20 years, intensively involved in research, restoration and promotion of typical artistic products of Tiriolo whose roots are deeply rooted in the rich and diverse historical and cultural past of this pre-silano small town. The shop is located in the village center of Tiriolo, rich in history and everyday life.
Inside, in addition to the exhibition space is the workshop. Five types of fifteenth century's looms offer the visitor direct contact with the various processing techniques identical to that of a time.
Here is a few example of art crafts executed at TessilArt workshop.
Shawl - Sciallo ("vancali" in dialect) -The typical Tiriolose, made of wool for the winter or silk for the summer. To meet customer demand, the shawl is now produced in several variants in addition to the traditional.
Production steps are identical to the traditional ones. From the traditional model have evolved different ways of making the "vancale" in fact, in fact, the most sought after is the summer silk shawl.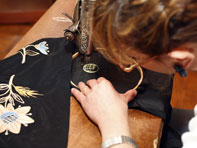 Embroidery - This process is performed using a Singer sewing machine. The fabric being used as a support for the embroidery can be mixed silk organza or a blend of silk and giorgette.
Keeping the portion of the fabric under tension to be to be stitched a circular frame is used. The embroidery is done by synchronizing the movement of the machine foot pedal with that of the circular frame. The yarns used are pure silk.
Towels, napkins and table linen to match any home decor
Carpets (Pezzari). Traditional rug or mat, of various le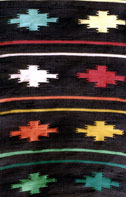 ngth. Traditionally they were woven using old clothes previously cut into strips.
Tiriolo is famous not only for the art of weaving, but also because the old ladies still wear the typical traditional dress consists of nine pieces. They are produced using the ancient techniques, fabrics and clothing complete with handmade embroidery. In addition to the dress of Tiriolo, thanks to an extensive study conducted in almost twenty years in other towns in TessilArt reproduce on demand all the traditional clothes that are part of this vast and varied demoethnoanthropological heritage.

Besides embroidery and weaving the shop is also involved in wood carving, sculpturing and wood turning. Statues and holy pictures, figurines for nativity scenes, decorative panels, apotropaic wood masks, home decor items all hand made.
Contact the company

Send Email