Business Profile:
The Serfunghi processing factory is located within Calabria national park in the Serre mountains near the town of Serra San Bruno in the province of Vibo Valentia. The company was started in 1964 but it wasn't untill 1995 that it started processing on a larger scale.
Today Serfunghi boast an array of products, all prepared according to old traditions, all typical from Calabria.

Mushrooms, fresh, dry in oil and frozen,aubergine, artichokes, dried tomatoes, olives, hot peppers, the famous "bomba" of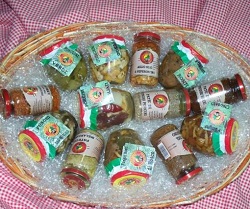 Calabria, zucchini, aromatic spices, stuffed peppers, wild strawberries (fresh and frozen), jams and a unique porcini liqueur. (Amaro Serfunghi).

Products come in different size, from the jumbo jars ideally anywhere food is prepared and smaller jars for retailing.
Sizes: 314 ml - 580 ml - 1,062 ml - 3,100 ml
Market served - Europe - North America.
...below just a few samples of the products offered by Serfunghi
PATE & SPREADS
| | | | |
| --- | --- | --- | --- |
| | | | |
| | | | |
| Pate's and spreads are increasingly being used in restaurants as welcome appetizers and are slowly replacing the bruschetta. | | | Products are available in Canada. Inquires from interested parties are welcomed. |
Available in Canada - Shipping from Toronto - Ontario