Business Profile: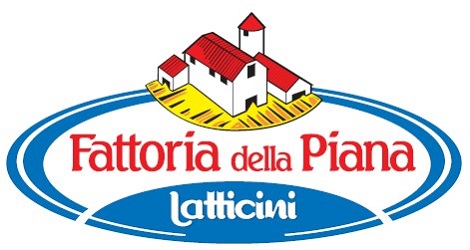 Fattoria della Piana is a cooperative of farmers founded in 1936 that mainly operates in the dairy industry. The cooperative directly cultivates about 200 hectares of land destined to production of hay, corn, and sorghum. The fertilizer used is completely organic and therefore able to return to the soil all the nutrients necessary to have quality products. Our modern agricultural machineries allow us to operate at each stage of processing, from flowing the soil to harvesting and silage.
Forage is then used to feed our heads, balanced fed to optimize the quality of milk produced.

Bio-Gas Implant - The Bio-gas engineering plant is the latest economic significant investment done by Management that enables Fattoria della Piana to cover fully its energy demand, and much more, using all wastes produced with no environmental impact. With a power of 625kW, it is the largest Bio-gas energy plant existing in the central and south Italy.
Livestock waste from our stables, together with leftover from milk processing and all rest of agricultural waste are stored in two fermenters, where mixed and heated in anaerobic digest process, produce a biogas.
This biogas contains a percentage of 55% of gas methane and it is burned into a co-generator, an engine that produces both electric and thermal energy.
Electrical energy produced is enough to cover efficiently the needs of 1.680 family homes in total, while the thermal one is used for all our internal needs concurring to save fuel. Through process of fermentation and combustion of biogas, wastes are transformed into energy, wastes from fermentation become biological fertilizer used for forage cultivation.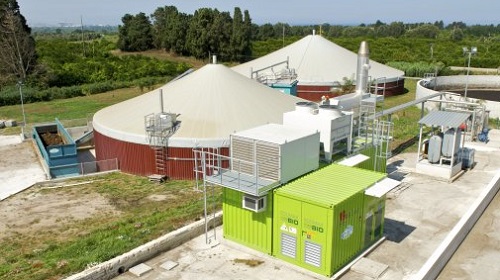 Fattoria della Piana therefore is a self-sufficient ecosystem capable to produce energy from agricultural wastes contributing to reduce pollution and dismantling costs giving at the same time revenue to the company itself.
Our bio-gas implant is able to add value to waste deriving from:
2000 heads poultry (manure)
1000 cows (manure and milk serum)
2000 sheep (manure and milk serum)
700 acres of citrus (waste processing)
1000 hectares of olive tree (olive pomace)
fruit and vegetable green house (waste)
viticulture (waste)
Constantly growing, it is nowadays the first producer of pecorino cheese in the Calabria region.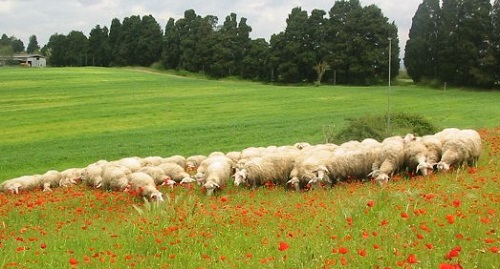 Everyday milk, exclusively from our own breeding, is collected and delivered at the dairy for processing, being at first, cooled out to ensure a proper preservation.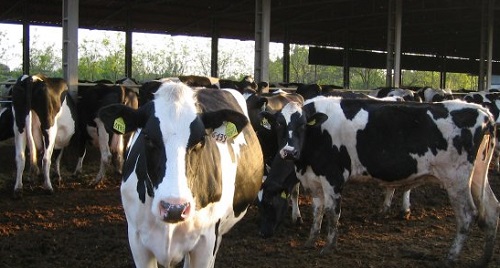 The dairy is also located inside Fattoria della Piana and has been re-structured and equipped with latest technology.

All our products are delivered daily throughout all Calabria region and Sicily by our modern refrigerated trucks, while in the rest of Italy and abroad are shipped by courier.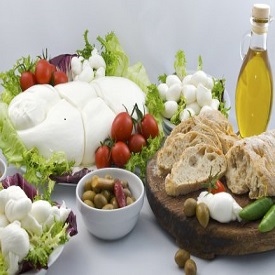 In addition we have official Fattoria della Piana stores spread among the closest provinces. We guarantee maximum freshness and genuineness of each product and the secret lays in the natural feed and in the high quality milk used with no additives nor preservatives.
In the past years, the Company has successfully positioned it self in the foreign market incrementing rapidly and consistently its figures especially with the Pecorino line cheese, rewarded recently at World Food Exhibition "TuttoFood 2009" in Milan.
Fattoria della Piana represents nowadays a model company having a complete chain of production covering directly all activities from cultivating the land up to delivering products.
Our well-structured distribution network, combined with product quality, has allowed us consolidate our market position in regional and national level and, with great satisfaction, even the conquest of foreign customers in various countries around the world.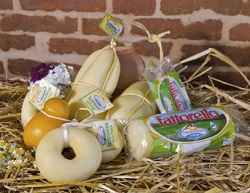 Processing: The heart of the company is the dairy.The production area that extends over a surface, completely renovated, of 1,000 square meters is divided into three areas:
- Fresh cheese line
- Stretched cheese line
- Pecorino cheese line

Our products are the result of artisan cheese making recipes where milk used, free of additives and preservatives, is exclusively from the cooperative breeding fed with natural, selected fodder from our crops.

The products are subject to constant and strict controls in order to provide quality and genuineness, the attributes which have always characterized our production in line with the traditional Calabrian taste.

The milk is processed right after being milked inside our modern, well structured dairy. Both production of milk and its transformation takes place inside our farm. All production processes are scrupulously carried out by highly professional, experienced staff.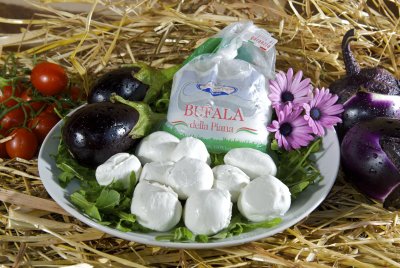 All fresh products such as mozzarella, fiordilatte and ricotta cheese are made same day of milking therefore delivered directly from the sheds, including Sundays. Rest of cheese is matured in appropriate cells according to the ripening stages under very rigid hygienic control. While they are being ripened, the cheeses are inspected, cleaned and turned at fixed schedule. These processes as per tradition are done by hand.
Breeding: Our main cattle shed has about 800 finely selected cows of Friesian breed pedigree heads, descending from an original group imported directly from Holland.

The cooperative also daily collects milk from 30 smaller cattlesheds and from 50 farmers located in Monte Poro, Aspromonte and Sila Crotonese geographic area taking advantage of the secular breeding tradition of this location.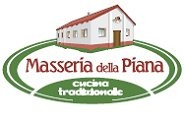 The restaurant : La "Masseria della Piana" is an agricultural restaurant that works upon reservation in order to guarantee freshness and quality of the food.
In the frame of an ancient restructured stable dipped in nature where you will definitely feel like home, you can taste all typical Calabrian traditional delicatessen in a warm, relaxing atmosphere.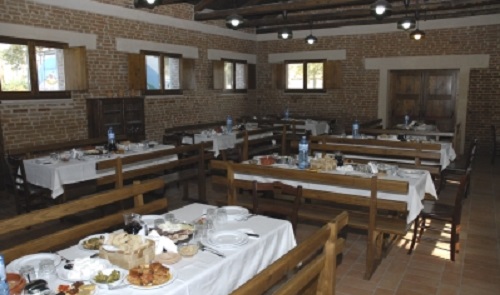 We offer from rich, delicious appetizers of cheeses, salami and vegetables directly from our own production to meat dishes coming from our farm's breeding.
Contadino: Semi-cooked cheese made with 70% cow's milk and 30% sheep's milk. Soft, sweet but a little tangy due to the percentage of sheep's milk contained, it is soft but firm enough to slice. Of cylindrical, basket shape it has a straw-coloured, thin rind. No preservatives.
Campagnolo: Semi-cooked cheese made with 70% cow's milk and 30% sheep's milk. Sweet but at the same time spicy due to presence of red Calabrian chilli pepper, it is soft but firm enough to slice. No preservatives.
Della Piana Provola - Cheese shaped by hand and made with whole pasteurized cow's milk. Of sweet taste and firm texture, it is available plain and smoked-it does not contain preservatives.
Pecorino Stracchinato: Made with a special technique, it is ready to eat twenty days after production. The youngest among the Pecorino line cheese. Smooth, creamy and milky it has a firm but delicate slightly acidulous flavour. Its rind is thin and smooth. Must be consumed within 3 months. It does not contain preservatives.
Pecorino Classico Calabrese-Characterized by small holes indicating its particular aroma, it is of white smooth, compact paste with sheep's typical flavour. Ripened for at least 60 days. Made exclusively with sheep's milk. It does not contain preservatives.
Pecorino Crotonese-Aged for about 4 months, its slightly spicy, distinctive taste is due to particular enzymes present in the milk itself and to the ripening period. It is of white smooth, compact paste with sheep's typical flavour. Made exclusively with sheep's milk. No preservatives
Pecorino Monte Poro-Aged for about 3 months, its perfume and taste are well developed and balanced. Of white, compact straw-coloured paste, it has a sweet but firm flavour of sheep's milk. Made exclusively with sheep's milk. It does not contain preservatives.
Pecorino Riserva-Made exclusively with sheep's milk. Recognizable for its dark rind, it is aged for at least 6 months. Traditional sheep cheese per excellence, typical sheep milk flavour, crumbly with a rich and intense slightly spicy taste. Ideal to be served "al naturale" as appetizer with cold dishes. milk from Calabria, it does not contain preservatives.
Pecorino Riserva Max-Recognizable for its dark rind treated with olive oil, it is aged for at least 12 months. Traditional ship cheese per excellence with a typical, rich sheep milk flavour it is crumbly with slightly spicy but very intense, fine taste. Very appetizing and tasty, it is ideal to be served "al naturale" as appetizer with cold dishes. Made exclusively with sheep's milk, it does not contain preservatives..

Contact the company

Send Email