Olio Dop Pescarese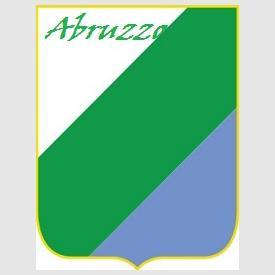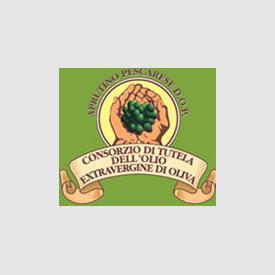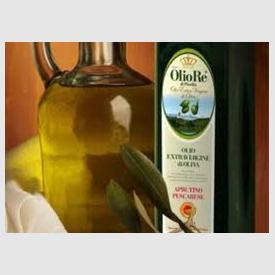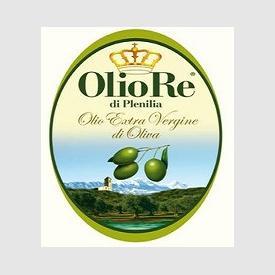 Business Name:
Olio DOP Aprutino Pescarese
Address:
Piazza Garibaldi, 7
Business Profile: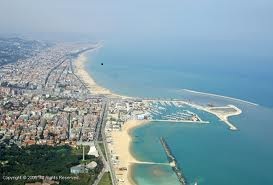 For a long time, olive-growing in Abruzzo was considered no more than a complementary activity to sheep-rearing and the cultivation of cereals. In Abruzzo today, however, olive-growing has increased in importance to become a major economic activity.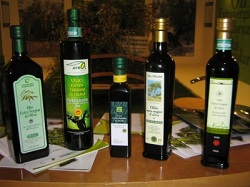 This is the background to Olio Extravergine d'Oliva Aprutino Pescarese, an olive oil granted a DOP certification. The oil is made from a blend of olives of the Dritta, Leccino and Toccolana varieties. The Dritta is a local variety; the Toccolana comes from the town district of Tocco Casauria and is notable for its high oil yields and rustic taste.
Olio Extravergine d'Oliva Aprutino Pescarese has a maximum acidity of 0.60 percent. Its colour ranges from green to yellow. It has a medium-high fruity scent and a fruity taste. The area of production is comprised of the entire province of Pescara.
Other Coops: Plenilia Farmers Cooperative, founded in 1961 by a group of farmers, Plenilia boasts the participation of 250 partners. The area of production is set between the hills of Pescara and the Vestina area, with several hectares of oil-growing land.
The Cooperativa San Mauro, Abruzzo's first cooperative was founded in 1957 and produces extra virgin olive oil of high quality.

The oil "SanMauro" is derived from the variety "Gentile di Chieti" cold-pressed with millstones, has unique characteristics as a very low acidity, a slight green color, an intense aroma of fresh olives, a fruity flavor sometimes pungent and a low number of peroxides.
Cultivar Abruzzo - Olive Oil characteristic

ABRUZZI-CAPRINA VASTESE CARBONCELLA CARBONCHIO CARPINETANA CASTIGLIONESE CERASA DI MONTENERO CORONCINA DRITTA FRANTOIO GAETANA GENTILE DELL'AQUILA GENTILE DI CHIETI GHIANDARO GRUGNALE INTOSSO LECCINO MIGNOLA MORAIOLO NEBBIO NEBBIO DI CHIETI OLIVA DI SAN PARDO OLIVASTRO DI BUCCHIANICO OLIVASTRO DI MONTAGNA OLIVASTRO FRENTANO OLIVOCE PEPERELLA POSOLA POSOLELLA PRECOCE PUNTELLA ROSCIOLA RUSTICA SALIGNA DI LARINO TOCCOLANA TORTIGLIONE
DRITTA: Medium-light fruity, green type, with hints of almond.
Its flavour is mainly sweet, with mild hints of spiciness and bitterness; almondy aftertaste. Its colour is green with yellow reflections, medium fluidity.
GENTILE DI CHIETI: Medium fruity, grassy type, with hints of artichoke and almond. Its flavour is well balanced, with moderately intense notes of spiciness and bitterness; almondy aftertaste.
Its colour is yellow with green reflections, medium fluidity.

Tutto da guadagnare, niente da perdere. Richiedi l'inserimento gratuito della pagina ospitale, potrai valutarla senza impegni e poi decidere se attivarla.

>>>
Olive Oil producers in the Province of Pescara

Az. Agricola Angolana Verde Abruzzo

www

Az. Agri. Ampolo Rella Andrea

www

Az. Agricola Bernardi

www

Az. Agri. Ai Calanchi di Alberico D'Intino

www

Azienda Agri. Ciavolich

www

Az. Agri. Fattoria dei Due Pini

www

Az. Agri. Forcella

www

Az. Agri. Guardiani Farchione

www

Az. Agri. Paolo D'Aloisio

www

Consorzio Aprutino Pescarese (Association producers)

www

Oleificio Goccia D' Oro

www

Olio Re Plenilia Cooperativa Agricola

www

Frantoio Antico Ciabarra

www

Frantoio Coletta

www

Frantoio Oleario Ranieri Donato

www

Frantoio Oleario Guido D'Amico

www

Le Selve D'Abruzzo

www

Terre Grande Abbazie COOP

www

Olive Oil producers in the Province of

Chieti

Az. Agri. Agriflorio

www

Az. Agr. Delia Orsini

www

Az. Agricola Nasuti Srl

www

Az. Agricola Sapori della Majella

www

Azienda Olearia Le Macine

www

Frantoio Aladino e Felice Stante

www

Frantoio Oleario Giocondo

www

Frantoio Oleaurius Tenaglia

www

Frantoio Oleario Zinni Nicola

www

Oleificio Andreassi

www

Oleificio De Laurentis

www

Oleificio I.A.M.

www

Oleificio Molino di Giulio

www

Oleificio Tomasetti

www

Oleificio Priori

www

Olio Regina

www

Natural

www

Olive Oil producers in the Province of Teramo

Az. Agri. Domus Olivarum

www

Oleificio San Giacomo

www
Olive oil producers in :
Abruzzo | Molise | Campania | Basilicata | Puglia | Calabria | Sicilia | Sardegna |